Powerful Immune Support
Earthbar's Super Immune was formulated as a tool to be used on a daily basis to bolster immune function.*

1% of all purchases donated to IUCN and deforestation efforts to preserve intact rain forests on planet earth

Free shipping on orders over $100
Gluten Free

Non-GMO

Dairy Free

Vegan
One 30 serving 2oz dropper bottle of Earthbar Super Immune.
60 drops (2 dropperfuls) 3 to 4 times a day during immune challenge, or as often a needed. Shake well.
01. What it does.

Optimizes natural immune function*

Astragalus contains antioxidants, which protect cells against oxidative damage. It's also traditionally used to protect and support the immune system, preventing colds and upper respiratory infections.*

Provides a powerful, natural anti-microbial & anti-bacterial*

Oregano is a abundant in a powerful phenol called thymol. Thymol been shown to stop the growth of several different types of bacteria. This natural anti-fungal can also support the immune system and protect against toxins.*

Supports the body during viral, bacterial & fungal infections*

Lomatium Root is traditionally used to treat acute and chronic viral, bacterial and fungal infections.*

Improves your natural ability to ward off colds & flus*

Research has shown Echinacea can increase the number of white blood cells, which are crucial in fighting infections.*

Protects lung health*

Lomatium root assists in thinning mucus, relieving congestion and acts as a mild expectorant.*
01. What it does.
Optimizes natural immune function*

Astragalus contains antioxidants, which protect cells against oxidative damage. It's also traditionally used to protect and support the immune system, preventing colds and upper respiratory infections.*

Provides a powerful, natural anti-microbial & anti-bacterial*

Oregano is a abundant in a powerful phenol called thymol. Thymol been shown to stop the growth of several different types of bacteria. This natural anti-fungal can also support the immune system and protect against toxins.*

Supports the body during viral, bacterial & fungal infections*

Lomatium Root is traditionally used to treat acute and chronic viral, bacterial and fungal infections.*

Improves your natural ability to ward off colds & flus*

Research has shown Echinacea can increase the number of white blood cells, which are crucial in fighting infections.*

Protects lung health*

Lomatium root assists in thinning mucus, relieving congestion and acts as a mild expectorant.*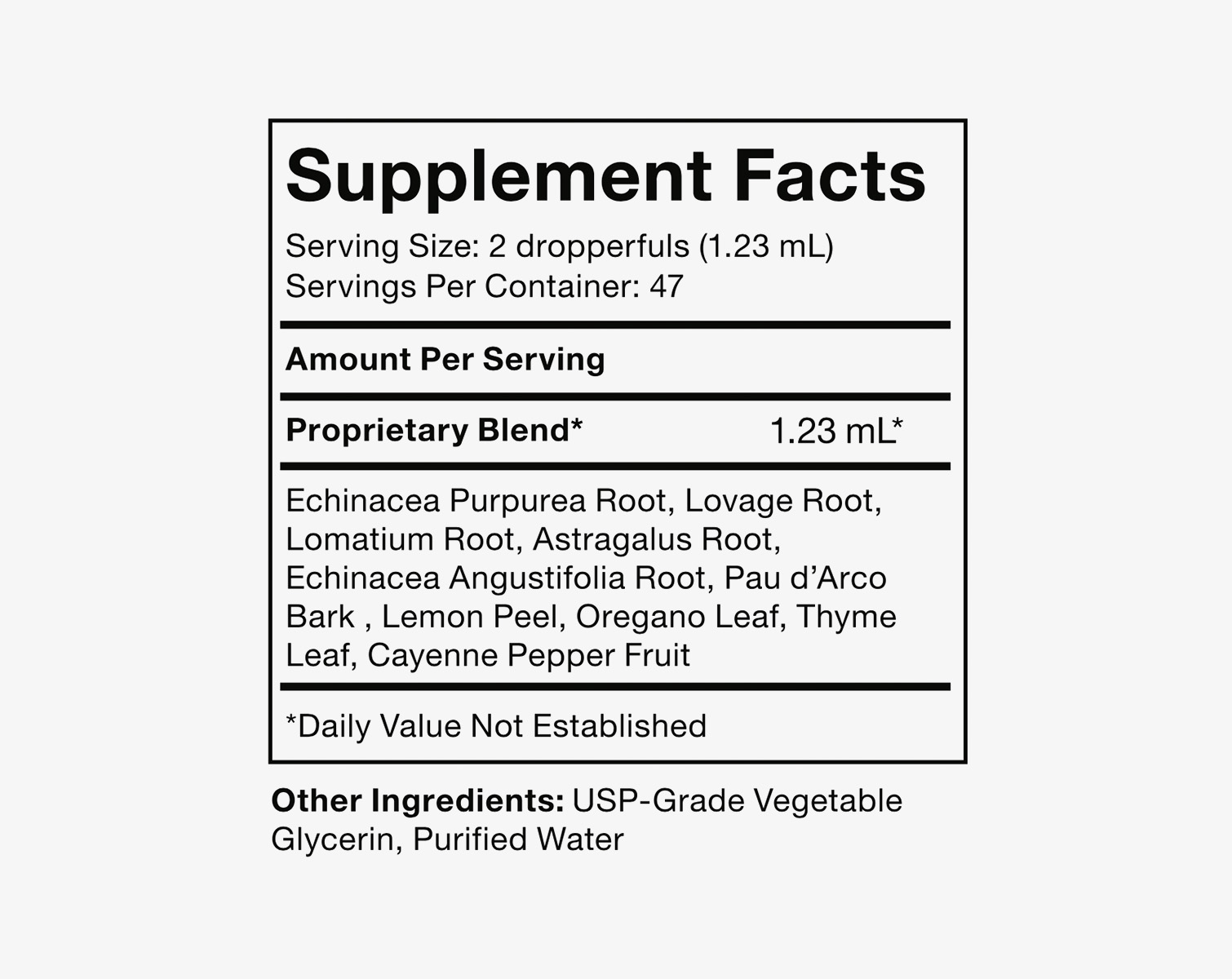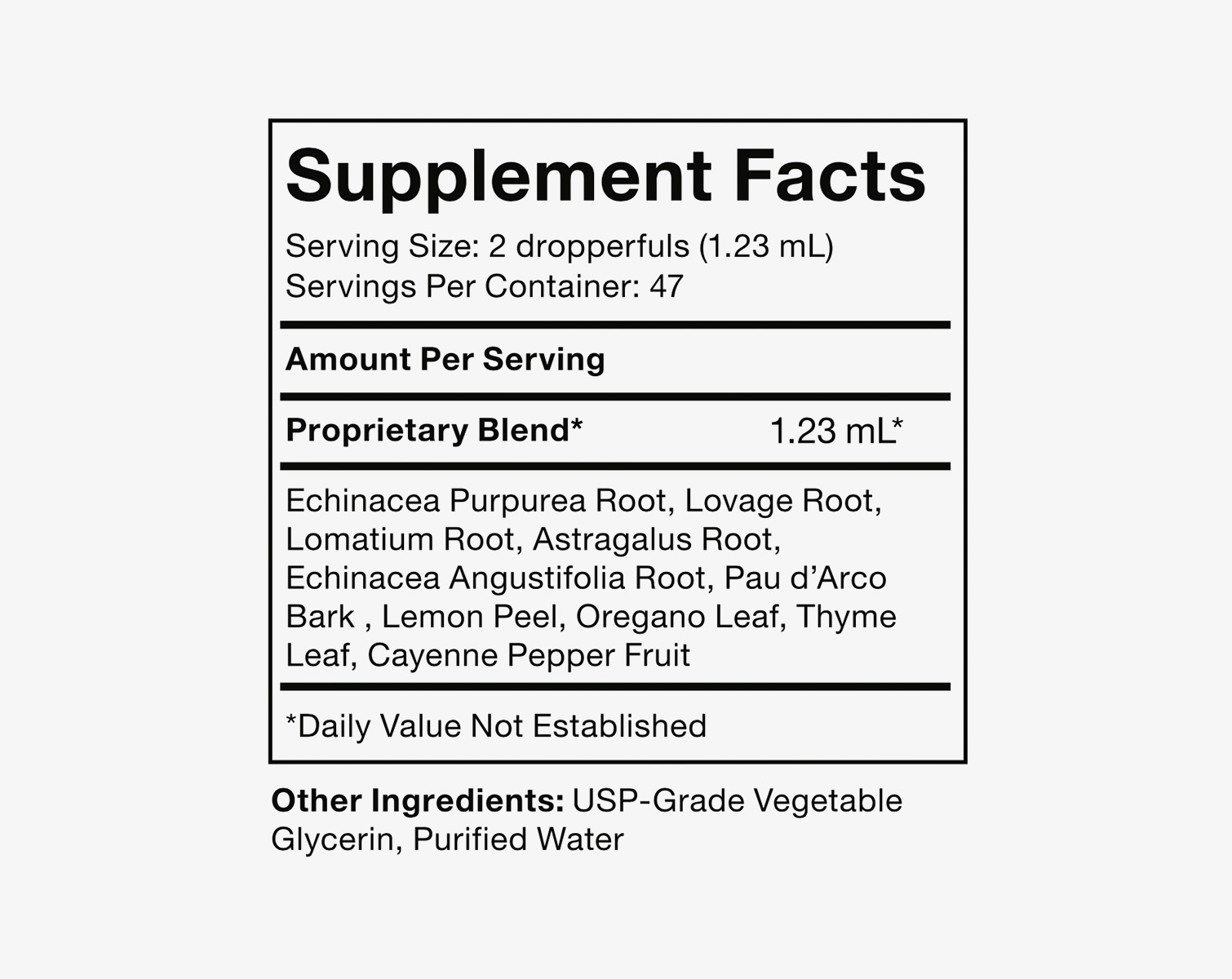 02. What's inside.

We're extremely selective and attentive with what goes in every Earthbar product. If it isn't good for you or doesn't work wonders, we're leaving it out.

Lomatium Root

Lomatium root has been traditional used to treat acute and chronic viral, bacterial and fungal infections.*

Astralagus

Commonly used to protect and support the immune system via its anti-inflammatory and antibacterial properties.*

Echinacea

Research has shown echinacea to increase white blood cells which are crucial in fighting infections.*

Oregano Leaf

Oregano Leaf is rich in carvacrol & thymol which have been shown to reduce sinus infections via their antimicrobial and antiviral properties.*

02. What's inside.

We're extremely selective and attentive with what goes in every Earthbar product. If it isn't good for you or doesn't work wonders, we're leaving it out.

Lomatium Root

Lomatium root has been traditional used to treat acute and chronic viral, bacterial and fungal infections.*

Astralagus

Commonly used to protect and support the immune system via its anti-inflammatory and antibacterial properties.*

Echinacea

Research has shown echinacea to increase white blood cells which are crucial in fighting infections.*

Oregano Leaf

Oregano Leaf is rich in carvacrol & thymol which have been shown to reduce sinus infections via their antimicrobial and antiviral properties.*

Lomatium Root

Lomatium root has been traditional used to treat acute and chronic viral, bacterial and fungal infections.*

Astralagus

Commonly used to protect and support the immune system via its anti-inflammatory and antibacterial properties.*

Echinacea

Research has shown echinacea to increase white blood cells which are crucial in fighting infections.*

Oregano Leaf

Oregano Leaf is rich in carvacrol & thymol which have been shown to reduce sinus infections via their antimicrobial and antiviral properties.*

03. The Earthbar Standard.

Deeply committed to staying extremely selective...

We exist to help everyone become the healthiest version of themselves. That's why every supplement, smoothie, bowl and tincture is tested by our team, rated by holistic experts, tried by your neighbors and true to our 6-point set of standards. A truly curated selection of wellness products.

01. Efficacy
02. Potency + Dosing
03. Active Ingredient Evaluation
04. Bioavailability
05. Quality Ingredients
06. Sustainability

03. The Earthbar Standard.

Deeply committed to staying extremely selective...

We exist to help everyone become the healthiest version of themselves. That's why every supplement, smoothie, bowl and tincture is tested by our team, rated by holistic experts, tried by your neighbors and true to our 6-point set of standards. A truly curated selection of wellness products.

01. Efficacy
02. Potency + Dosing
03. Active Ingredient Evaluation
04. Bioavailability
05. Quality Ingredients
06. Sustainability