Earthbar
Earthfusion Protein
$29.99
1 lb. (15 servings) or 2 lbs. (30 servings) Premium Plant Protein
A Fusion of Premium Ingredients and Amazing Taste!

There's a reason why most protein shakes look and taste the same. Most of them are all made the same way, using the same ingredients. At Earthbar we made a choice to use better ingredients like yellow peas from northern hills of France and better flavors like vanilla bean from Madagascar. It turns out that these choices matter both in creating the highest quality product possible and in a product that tastes delicious! Fuel your performance. Manage your appetite. Support Digestive health. Speed Muscle recovery.*


$29.99 - 1 lb. (15 servings)
$55.99 - 2 lbs. (30 servings)

1% of all purchases donated to IUCN and deforestation efforts to preserve intact rain forests on planet earth

Free shipping on orders over $100
Gluten Free

Non-GMO

Dairy Free

Vegan
1 lb. (15 servings) or 2 lbs. (30 servings) of Earthbar's Premium Plant Protein.
Add one level scoop to 9-12oz of chilled water/almond milk/favorite beverage in a shaker cup or blender and mix for about 5 seconds. Also tastes great when added to smoothies. Store in a cool, dry place away from direct light.
01. What it does.

Sustains energy

Packed with 21g of plant-based proteins including peas, artichokes, algae and organic superfoods, all hand-selected as part of the Select Source™ process.

Builds and repairs muscle

Amino acid infused protein blend for complete balance. The only plant protein that compares to animal proteins like whey.*

Easy to digest

Fortified with digestive enzymes and free of major allergens.*

Naturally delicious

Our blend of natural flavors and sweeteners allows us to offer you one of the best tasting vegan protein shakes on the market!*
01. What it does.
Sustains energy

Packed with 21g of plant-based proteins including peas, artichokes, algae and organic superfoods, all hand-selected as part of the Select Source™ process.

Builds and repairs muscle

Amino acid infused protein blend for complete balance. The only plant protein that compares to animal proteins like whey.*

Easy to digest

Fortified with digestive enzymes and free of major allergens.*

Naturally delicious

Our blend of natural flavors and sweeteners allows us to offer you one of the best tasting vegan protein shakes on the market!*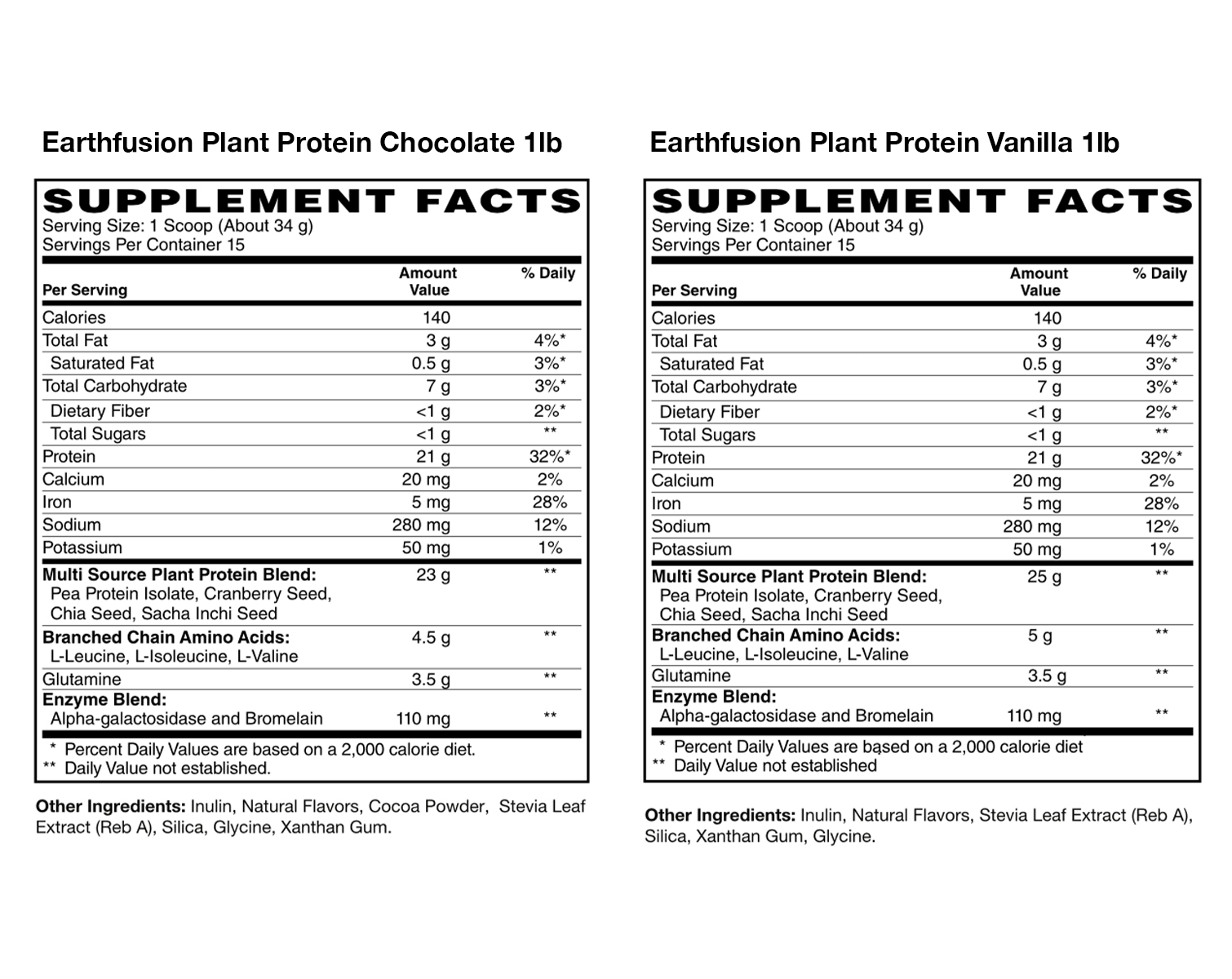 02. What's inside.

We're extremely selective and attentive with what goes in every Earthbar product. If it isn't good for you or doesn't work wonders, we're leaving it out.

Plant Protein Blend

Sourced from non-gmo sprouted oat, buckwheat, chia seed, peas, and more for a complete plant-based protein including 5g of branch chain amino acids.*

Enzyme Blend

​​A special mixture of natural enzymes to allow optimal nutrient absorption. These will ensure ideal benefits in every dose.*

L-Glutamine

L-Glutamine is necessary to maintain muscle protein and it may help reduce fatigue and improve exercise recovery.*

02. What's inside.

We're extremely selective and attentive with what goes in every Earthbar product. If it isn't good for you or doesn't work wonders, we're leaving it out.

Plant Protein Blend

Sourced from non-gmo sprouted oat, buckwheat, chia seed, peas, and more for a complete plant-based protein including 5g of branch chain amino acids.*

Enzyme Blend

​​A special mixture of natural enzymes to allow optimal nutrient absorption. These will ensure ideal benefits in every dose.*

L-Glutamine

L-Glutamine is necessary to maintain muscle protein and it may help reduce fatigue and improve exercise recovery.*

Plant Protein Blend

Sourced from non-gmo sprouted oat, buckwheat, chia seed, peas, and more for a complete plant-based protein including 5g of branch chain amino acids.*

Enzyme Blend

​​A special mixture of natural enzymes to allow optimal nutrient absorption. These will ensure ideal benefits in every dose.*

L-Glutamine

L-Glutamine is necessary to maintain muscle protein and it may help reduce fatigue and improve exercise recovery.*

03. The Earthbar Standard.

Deeply committed to staying extremely selective...

We exist to help everyone become the healthiest version of themselves. That's why every supplement, smoothie, bowl and tincture is tested by our team, rated by holistic experts, tried by your neighbors and true to our 6-point set of standards. A truly curated selection of wellness products.

01. Efficacy
02. Potency + Dosing
03. Active Ingredient Evaluation
04. Bioavailability
05. Quality Ingredients
06. Sustainability

03. The Earthbar Standard.

Deeply committed to staying extremely selective...

We exist to help everyone become the healthiest version of themselves. That's why every supplement, smoothie, bowl and tincture is tested by our team, rated by holistic experts, tried by your neighbors and true to our 6-point set of standards. A truly curated selection of wellness products.

01. Efficacy
02. Potency + Dosing
03. Active Ingredient Evaluation
04. Bioavailability
05. Quality Ingredients
06. Sustainability