Earthbar
Glow & Restore Collagen
Boost skin elasticity, hair health and bone strength with this blend of three patented collagen peptides

Glow & Restore Collagen contains a unique blend of three patented collagen peptides supported by clinical research showing their efficacy for supporting collagen production, bone strength, joint health and integrity, skin elasticity, and more.* Collagen is a special type of protein that accounts for as much as 30% of the body's total protein. In particular, it's a primary structural component of connective tissue.

1% of all purchases donated to IUCN and deforestation efforts to preserve intact rain forests on planet earth

Free shipping on orders over $100
Gluten Free

Non-GMO

Dairy Free
(30) 13g servings of our Glow & Restore Collagen.
Recommended Use: Mix 13 grams (approximately one scoop) in 8 ounces of water per day or as directed by your health-care practitioner. For best results, add powder prior to adding water.
01. What it does.

Supports Healthy, Glowing Skin*

VERISOL® rejuvenates the skin from the inside. Our skin cells produce less and less collagen beginning at the age of 25. In addition to age, external factors such as UV radiation, smoking and stress damage the skin's sensitive collagen scaffolding. VERISOL® is a patented collagen peptide. It consists of natural collagen peptides that have been specifically developed to provide the highest possible efficacy in human skin. The special peptide composition and structure is what makes VERISOL® different and effectively stimulates the skin's collagen production directly from the inside.*

Healthy Hair & Nails*

Collagen is an essential building block of skin, hair, and nails. VERISOL® can help to improve growth and health of fingernails. It also increases hair thickness, a key aspect of improved hair structure and appearance.*

Joint Health & Integrity*

After ingestion, the Bioactive Collagen Peptides (BCP®s) in Fortigel, pass through the intestinal mucosa and enter the blood stream partially intact. Once inside the body, FORTIGEL® accumulates in the joint cartilage, where it stimulates chondrocytes – cells responsible for regeneration of human cartilage - to produce even more collagen and proteoglycans. This leads to increased synthesis of these two major components of cartilage & helps combat progressive degeneration of cartilage tissue.*

Bone Health*

We automatically associate calcium with bone health, but healthy bones require much more than one single element! Bone is a mixture of mineral crystals held in an organic collagen matrix. On their own, the crystals would be extremely brittle and prone to breakage. FORTIBONE®, with its specific Bioactive Collagen Peptides (BCP®s), stimulates osteoblast activity to increase the production of the extracellular bone matrix, which is the essential framework for calcium mineralization. FORTIBONE® is made up of specific collagen peptide chains designed to target bones, joints, ligaments and muscle mass.*
01. What it does.
Supports Healthy, Glowing Skin*

VERISOL® rejuvenates the skin from the inside. Our skin cells produce less and less collagen beginning at the age of 25. In addition to age, external factors such as UV radiation, smoking and stress damage the skin's sensitive collagen scaffolding. VERISOL® is a patented collagen peptide. It consists of natural collagen peptides that have been specifically developed to provide the highest possible efficacy in human skin. The special peptide composition and structure is what makes VERISOL® different and effectively stimulates the skin's collagen production directly from the inside.*

Healthy Hair & Nails*

Collagen is an essential building block of skin, hair, and nails. VERISOL® can help to improve growth and health of fingernails. It also increases hair thickness, a key aspect of improved hair structure and appearance.*

Joint Health & Integrity*

After ingestion, the Bioactive Collagen Peptides (BCP®s) in Fortigel, pass through the intestinal mucosa and enter the blood stream partially intact. Once inside the body, FORTIGEL® accumulates in the joint cartilage, where it stimulates chondrocytes – cells responsible for regeneration of human cartilage - to produce even more collagen and proteoglycans. This leads to increased synthesis of these two major components of cartilage & helps combat progressive degeneration of cartilage tissue.*

Bone Health*

We automatically associate calcium with bone health, but healthy bones require much more than one single element! Bone is a mixture of mineral crystals held in an organic collagen matrix. On their own, the crystals would be extremely brittle and prone to breakage. FORTIBONE®, with its specific Bioactive Collagen Peptides (BCP®s), stimulates osteoblast activity to increase the production of the extracellular bone matrix, which is the essential framework for calcium mineralization. FORTIBONE® is made up of specific collagen peptide chains designed to target bones, joints, ligaments and muscle mass.*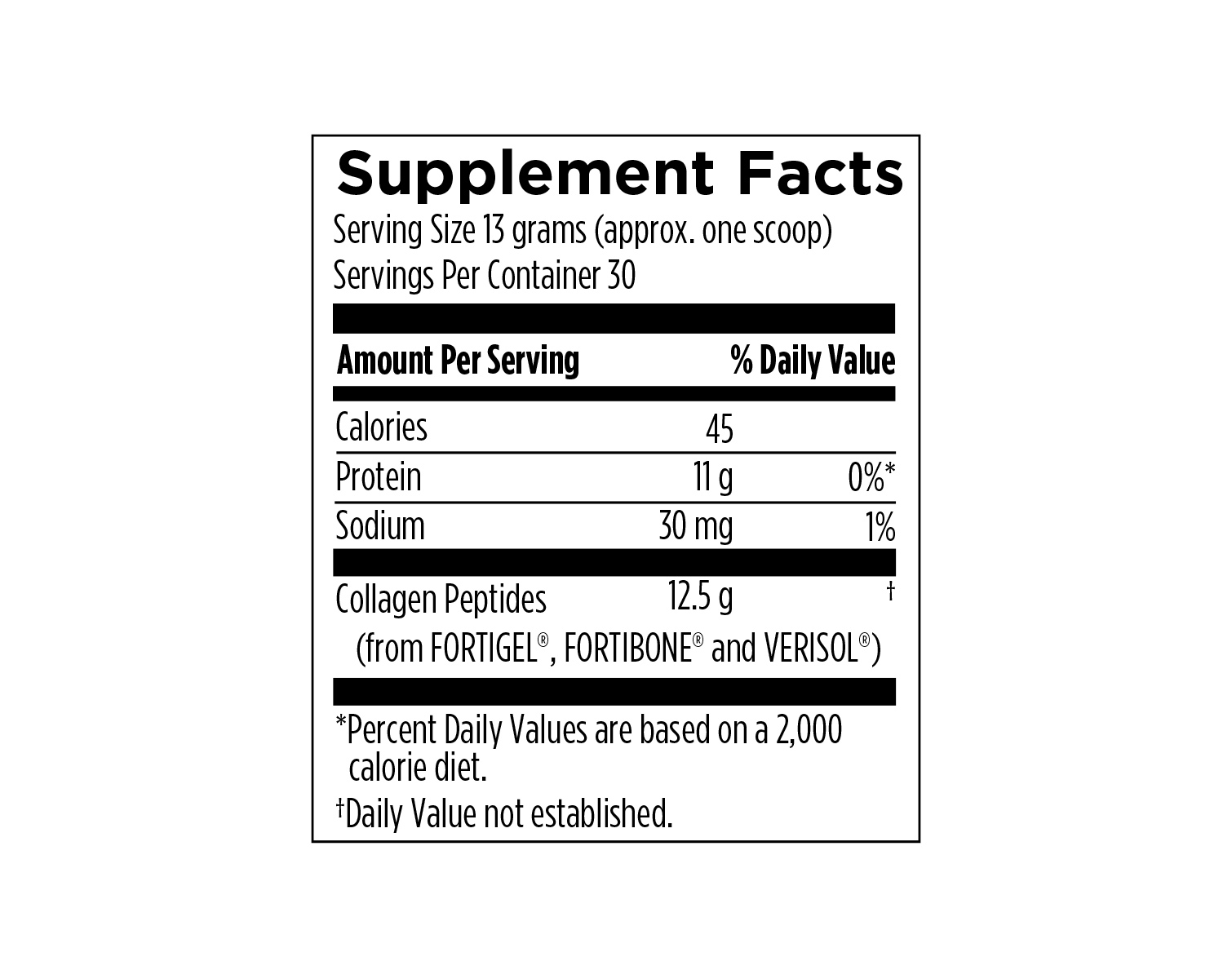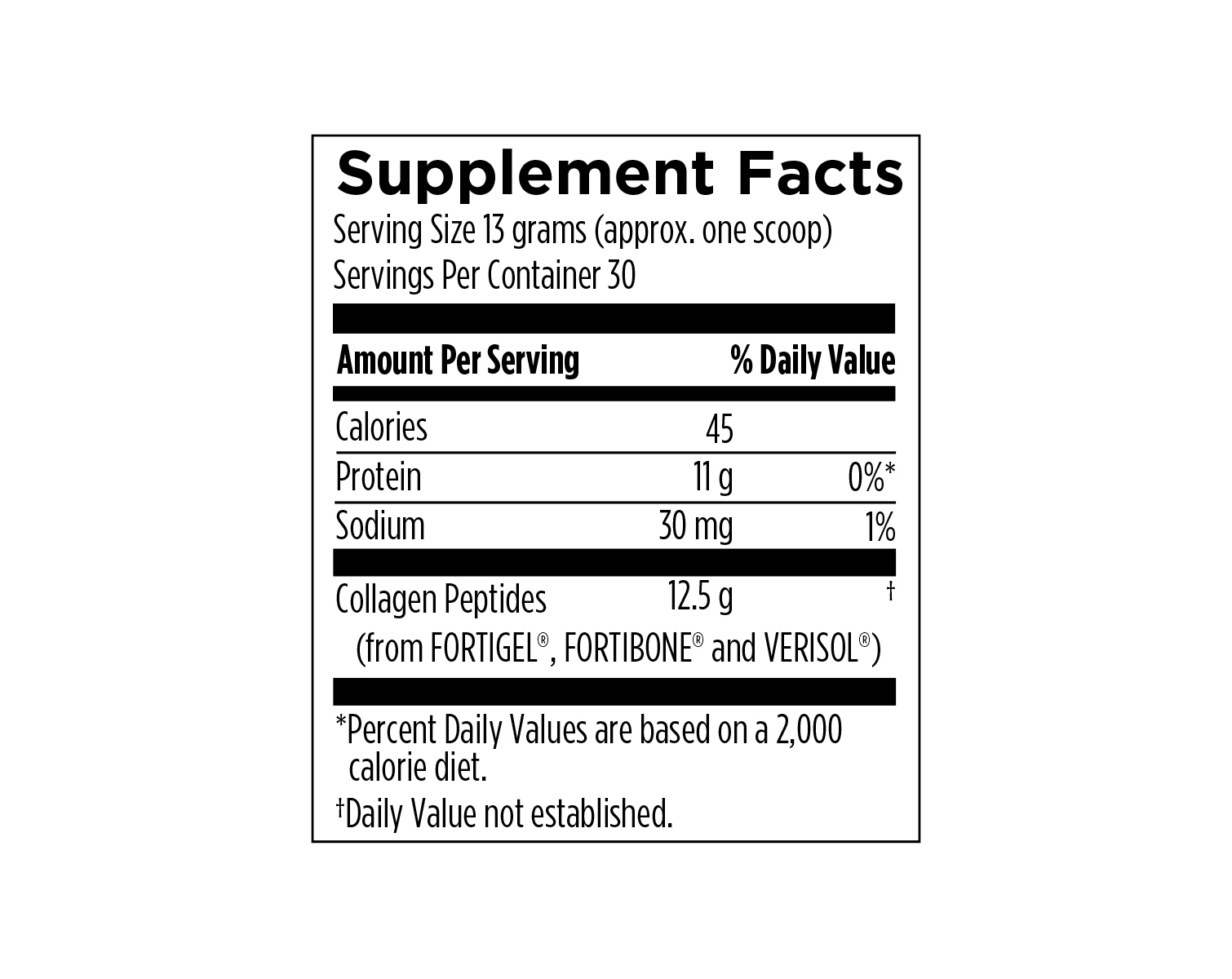 02. What's inside.

We're extremely selective and attentive with what goes in every Earthbar product. If it isn't good for you or doesn't work wonders, we're leaving it out.

FORTIGEL®

FORTIGEL® is an innovative ingredient for the regeneration of joint cartilage. Collagenous protein makes up nearly 70% of cartilage mass. Optimized specific collagen peptides of FORTIGEL® have been proven to activate the growth of new cartilage by stimulating cells helping to ease joint discomfort and make the joints smooth and mobile.*

FORTIBONE®

FORTIBONE®, with its specific Bioactive Collagen Peptides (BCP®s), stimulates osteoblast activity to increase the production of the extracellular bone matrix, which is the essential framework for calcium mineralization.*

VERISOL®

VERISOL® is specially optimized for beauty applications and brings about noticeably firmer and smoother skin with fewer wrinkles. It stimulates skin metabolism and counteract the loss of collagen from the inside.*

02. What's inside.

We're extremely selective and attentive with what goes in every Earthbar product. If it isn't good for you or doesn't work wonders, we're leaving it out.

FORTIGEL®

FORTIGEL® is an innovative ingredient for the regeneration of joint cartilage. Collagenous protein makes up nearly 70% of cartilage mass. Optimized specific collagen peptides of FORTIGEL® have been proven to activate the growth of new cartilage by stimulating cells helping to ease joint discomfort and make the joints smooth and mobile.*

FORTIBONE®

FORTIBONE®, with its specific Bioactive Collagen Peptides (BCP®s), stimulates osteoblast activity to increase the production of the extracellular bone matrix, which is the essential framework for calcium mineralization.*

VERISOL®

VERISOL® is specially optimized for beauty applications and brings about noticeably firmer and smoother skin with fewer wrinkles. It stimulates skin metabolism and counteract the loss of collagen from the inside.*

FORTIGEL®

FORTIGEL® is an innovative ingredient for the regeneration of joint cartilage. Collagenous protein makes up nearly 70% of cartilage mass. Optimized specific collagen peptides of FORTIGEL® have been proven to activate the growth of new cartilage by stimulating cells helping to ease joint discomfort and make the joints smooth and mobile.*

FORTIBONE®

FORTIBONE®, with its specific Bioactive Collagen Peptides (BCP®s), stimulates osteoblast activity to increase the production of the extracellular bone matrix, which is the essential framework for calcium mineralization.*

VERISOL®

VERISOL® is specially optimized for beauty applications and brings about noticeably firmer and smoother skin with fewer wrinkles. It stimulates skin metabolism and counteract the loss of collagen from the inside.*

03. The Earthbar Standard.

Deeply committed to staying extremely selective...

We exist to help everyone become the healthiest version of themselves. That's why every supplement, smoothie, bowl and tincture is tested by our team, rated by holistic experts, tried by your neighbors and true to our 6-point set of standards. A truly curated selection of wellness products.

01. Efficacy
02. Potency + Dosing
03. Active Ingredient Evaluation
04. Bioavailability
05. Quality Ingredients
06. Sustainability

03. The Earthbar Standard.

Deeply committed to staying extremely selective...

We exist to help everyone become the healthiest version of themselves. That's why every supplement, smoothie, bowl and tincture is tested by our team, rated by holistic experts, tried by your neighbors and true to our 6-point set of standards. A truly curated selection of wellness products.

01. Efficacy
02. Potency + Dosing
03. Active Ingredient Evaluation
04. Bioavailability
05. Quality Ingredients
06. Sustainability