Earthbar
Core Daily Pack 30-day supply
$29.95
30 Day Vitamin Pack
Formulated with a full spectrum of vitamins, minerals, antioxidants, botanicals and other nutrients that work synergistically to nourish your body and help you feel your best.  Supports the immune system, promotes a healthy heart, and supports vision & eye health.*
Includes a 30-day supply of 4 unique supplements
COMPLETE C 500
Supports immune function and connective tissue with a stomach friendly vitamin C blend plus bioflavonoids to help facilitate absorption and utilization.*
COMPLETE E
Offers a mixed tocopherol profile along with a full suite of supporting antioxidants to protect your cells from daily free-radical damage.*
COMPLETE MINERALS
Formulated to supply your body with the minerals needed to maintain healthy bones, teeth and iron levels.*
COMPLETE MULTI
Packed with clinically studied nutrients and formulated to be more effective than your basic multivitamin. Provides foundational vitamins and minerals that are often difficult to get from diet alone.


1% of all purchases donated to IUCN and deforestation efforts to preserve intact rain forests on planet earth

Free shipping on orders over $100
Gluten Free

Non-GMO

Dairy Free

Vegan
A 30 day supply of 1 packet servings per box.
As a dietary supplement, take 1 packet daily.
01. What it does.

Promotes tissue growth and repair*

Our Super Vitamin C complex promotes tissue growth & repair, protects against the harmful effects of some forms of pollution, supports the immune system, aids all connective tissues of the body, including tendons, ligaments and all epithelia & assists with healthy blood clotting and the healing of bruises.*

Earthbar Multi Vitamin

Helps the formation of bone and the body's use of calcium, supports growth and repair of body tissue and good vision, serves as an antioxidant, promotes red blood cell formation, antibody production, and cell respiration and growth, and aids in the functioning of the nervous system.*

Earthbar Marine Mineral

Provides algae-cal, calcium, magnesium and zinc which helps balance blood pressure, supports the building of healthy bones, helps contribute to the overall shape, strength and elasticity of bone & supports prostate gland function and the growth of the reproductive organs.*

Earthbar Super Antioxidant

Supports cardiovascular health and free-radical elimination, helps prevent disease development, assists in controlling blood sugar levels, promotes a good functioning immune system, & helps to alleviate unpleasant symptoms associated with some immune disorders.*
01. What it does.
Promotes tissue growth and repair*

Our Super Vitamin C complex promotes tissue growth & repair, protects against the harmful effects of some forms of pollution, supports the immune system, aids all connective tissues of the body, including tendons, ligaments and all epithelia & assists with healthy blood clotting and the healing of bruises.*

Earthbar Multi Vitamin

Helps the formation of bone and the body's use of calcium, supports growth and repair of body tissue and good vision, serves as an antioxidant, promotes red blood cell formation, antibody production, and cell respiration and growth, and aids in the functioning of the nervous system.*

Earthbar Marine Mineral

Provides algae-cal, calcium, magnesium and zinc which helps balance blood pressure, supports the building of healthy bones, helps contribute to the overall shape, strength and elasticity of bone & supports prostate gland function and the growth of the reproductive organs.*

Earthbar Super Antioxidant

Supports cardiovascular health and free-radical elimination, helps prevent disease development, assists in controlling blood sugar levels, promotes a good functioning immune system, & helps to alleviate unpleasant symptoms associated with some immune disorders.*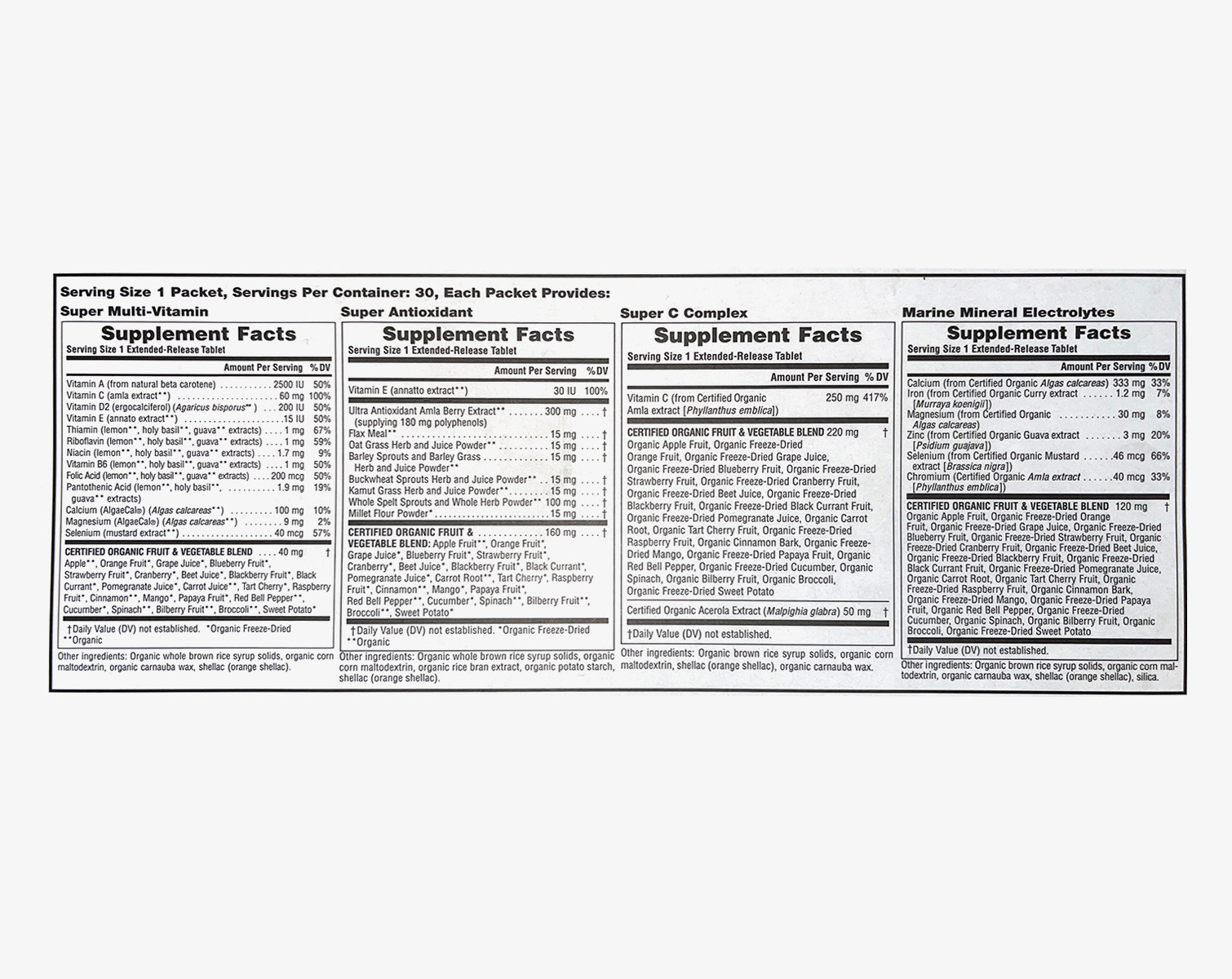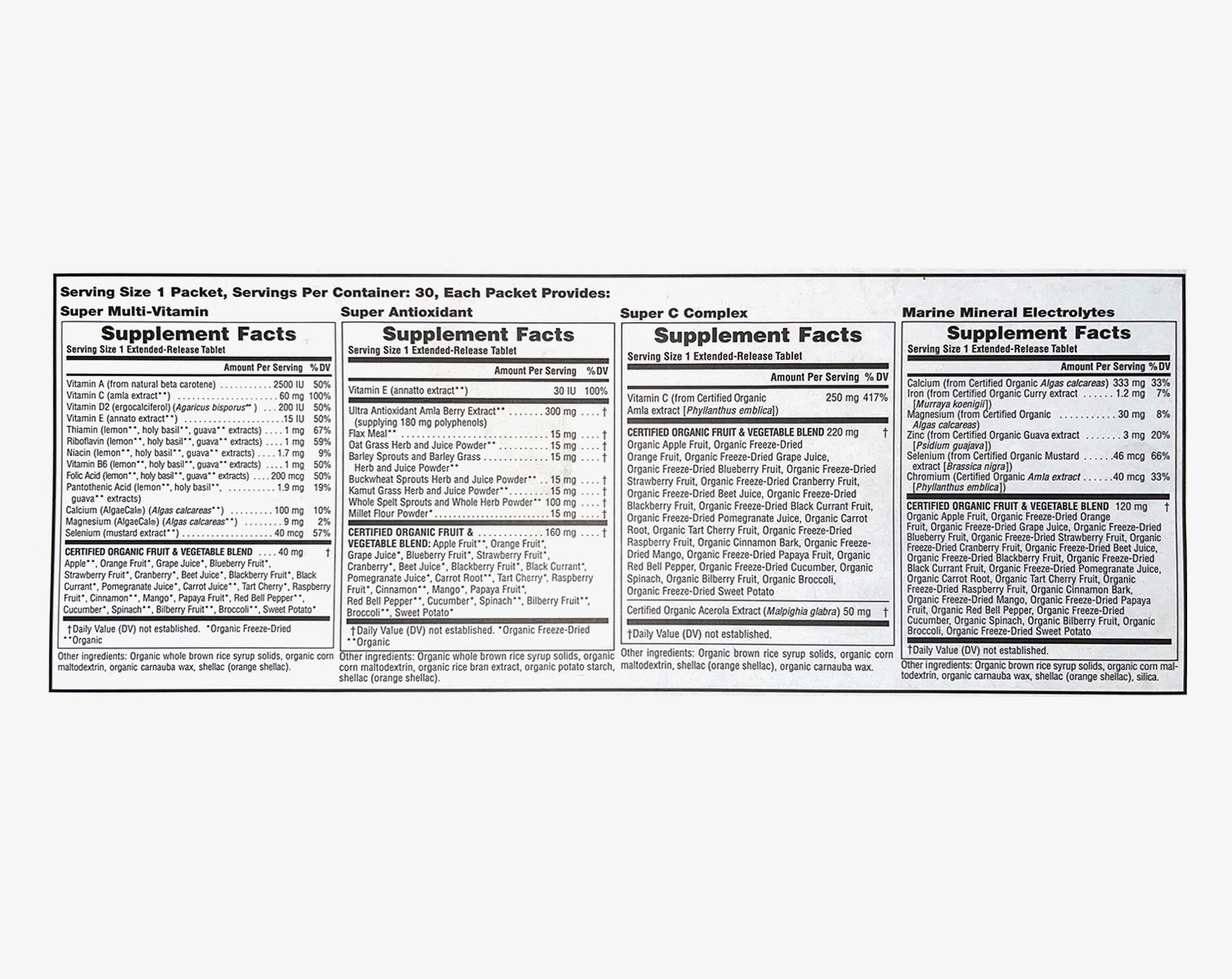 02. What's inside.

We're extremely selective and attentive with what goes in every Earthbar product. If it isn't good for you or doesn't work wonders, we're leaving it out.

Super Multi Vitamin

adds to the powerful combination with its nutrient-rich blend of 18 colorful whole fruits and vegetables, including lemon, holy basil, guava, and Algas calcareous.*

Marine Mineral Electrolytes

Charges your body with minerals including the untouched AlgaeCal found along the coastline in South America.*

Super Antioxidant

Charges your body with over 25 certified-organic whole fruits (including 300 mg of organic amla fruit), grains, vegetables, mushrooms, chlorella and spirulina.*

Super Vitamin C

holds the rinds of 5 different fruits to ensure you benefit from hesperidin, rutin and bioflavonoids and enjoy a wholesome vitamin.*

02. What's inside.

We're extremely selective and attentive with what goes in every Earthbar product. If it isn't good for you or doesn't work wonders, we're leaving it out.

Super Multi Vitamin

adds to the powerful combination with its nutrient-rich blend of 18 colorful whole fruits and vegetables, including lemon, holy basil, guava, and Algas calcareous.*

Marine Mineral Electrolytes

Charges your body with minerals including the untouched AlgaeCal found along the coastline in South America.*

Super Antioxidant

Charges your body with over 25 certified-organic whole fruits (including 300 mg of organic amla fruit), grains, vegetables, mushrooms, chlorella and spirulina.*

Super Vitamin C

holds the rinds of 5 different fruits to ensure you benefit from hesperidin, rutin and bioflavonoids and enjoy a wholesome vitamin.*

Super Multi Vitamin

adds to the powerful combination with its nutrient-rich blend of 18 colorful whole fruits and vegetables, including lemon, holy basil, guava, and Algas calcareous.*

Marine Mineral Electrolytes

Charges your body with minerals including the untouched AlgaeCal found along the coastline in South America.*

Super Antioxidant

Charges your body with over 25 certified-organic whole fruits (including 300 mg of organic amla fruit), grains, vegetables, mushrooms, chlorella and spirulina.*

Super Vitamin C

holds the rinds of 5 different fruits to ensure you benefit from hesperidin, rutin and bioflavonoids and enjoy a wholesome vitamin.*

03. The Earthbar Standard.

Deeply committed to staying extremely selective...

We exist to help everyone become the healthiest version of themselves. That's why every supplement, smoothie, bowl and tincture is tested by our team, rated by holistic experts, tried by your neighbors and true to our 6-point set of standards. A truly curated selection of wellness products.

01. Efficacy
02. Potency + Dosing
03. Active Ingredient Evaluation
04. Bioavailability
05. Quality Ingredients
06. Sustainability

03. The Earthbar Standard.

Deeply committed to staying extremely selective...

We exist to help everyone become the healthiest version of themselves. That's why every supplement, smoothie, bowl and tincture is tested by our team, rated by holistic experts, tried by your neighbors and true to our 6-point set of standards. A truly curated selection of wellness products.

01. Efficacy
02. Potency + Dosing
03. Active Ingredient Evaluation
04. Bioavailability
05. Quality Ingredients
06. Sustainability