Endurance + Energy Production
Earthbar's Get Up & Go-Go is a fast-acting synergistic blend of herbals crafted to bring you clean energy all day long.*

1% of all purchases donated to IUCN and deforestation efforts to preserve intact rain forests on planet earth

Free shipping on orders over $100
Gluten Free

Non-GMO

Dairy Free

Vegan
One 30 serving 2oz dropper bottle of Earthbar Get Up & Go Go.
2 dropperfuls 1 to 2 times a day, or as needed to maintain energy. Shake well.
01. What it does.

Supports healthy liver function*

Schizandra assists in maintaining healthy liver function through increasing phase II liver detoxification.*

Provides energy on demand*

Guarana & Mate provide an immediate burst of energy to help you stay on-point & fueled throughout the day.*

Improves antioxidant status*

Green tea has a high ECGC content which aids in the fight against free radicals.*

Optimizes Hormone Balance*

Schizandra assists in maintaining a balanced hormone state via increased liver function.*

Protects against adrenal fatigue*

This carefully crafted adaptogenic blend of Ashwaganda, Eleuthero, Schizandra & Maca helps to ensure your body can respond to stress with ease.*
01. What it does.
Supports healthy liver function*

Schizandra assists in maintaining healthy liver function through increasing phase II liver detoxification.*

Provides energy on demand*

Guarana & Mate provide an immediate burst of energy to help you stay on-point & fueled throughout the day.*

Improves antioxidant status*

Green tea has a high ECGC content which aids in the fight against free radicals.*

Optimizes Hormone Balance*

Schizandra assists in maintaining a balanced hormone state via increased liver function.*

Protects against adrenal fatigue*

This carefully crafted adaptogenic blend of Ashwaganda, Eleuthero, Schizandra & Maca helps to ensure your body can respond to stress with ease.*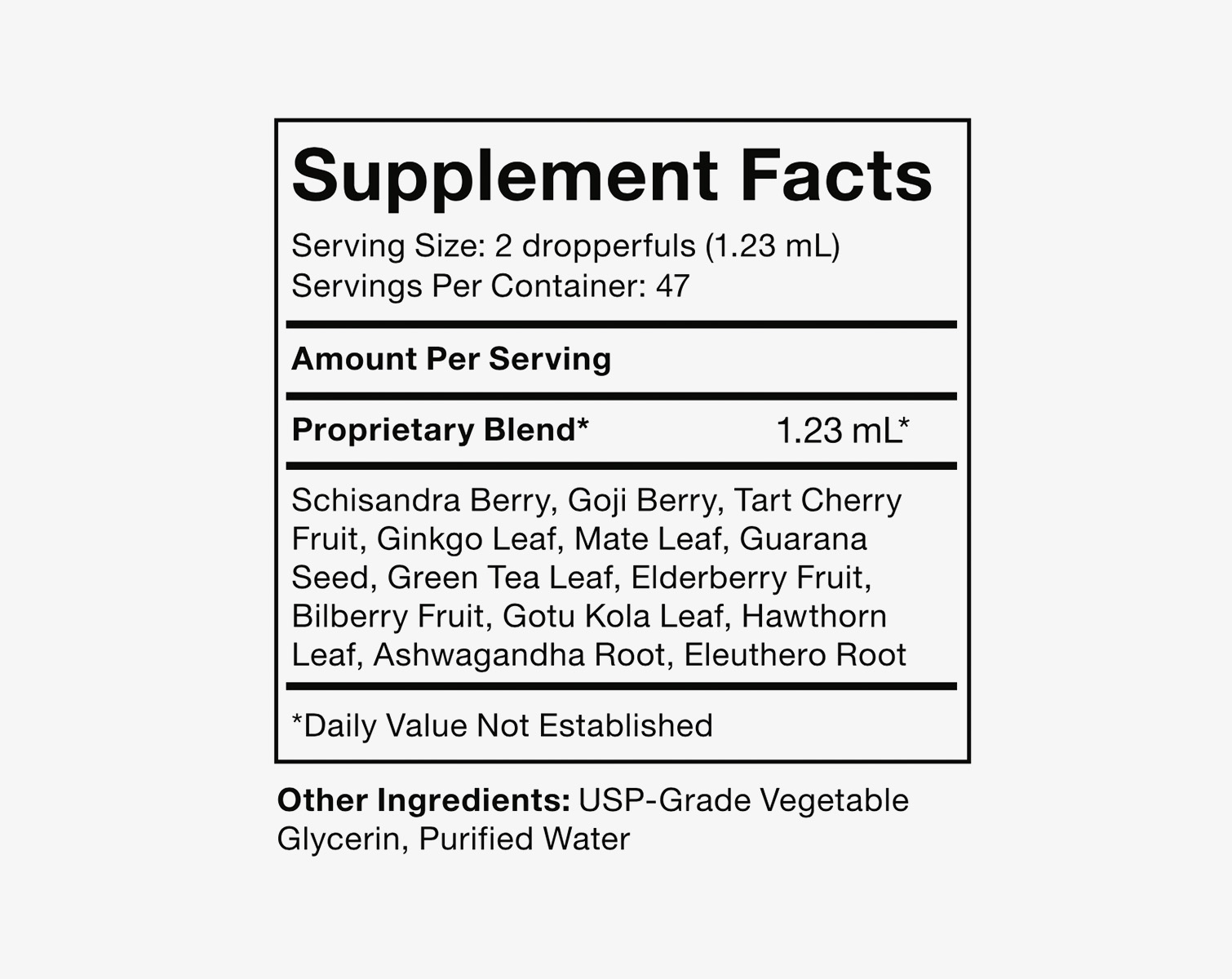 02. What's inside.

We're extremely selective and attentive with what goes in every Earthbar product. If it isn't good for you or doesn't work wonders, we're leaving it out.

Schisandra

Has been shown to balance hormone via the upregulation of both phase 1 and phase 2 liver detoxification pathways.*

Mate

Mate is linked to increased alertness, improved concentration, reduced fatigue, and enhanced physical performance.*

Green Tea

High in ECGC which has been shown to accelerate fat loss and prevent new fat cells from forming. Increases "flow-state" energy due to the combination of L-theanine & Green Tea.*

Guarana

Commonly used for its ability to reduce fatigue, boost energy and aid learning and memory.*

02. What's inside.

We're extremely selective and attentive with what goes in every Earthbar product. If it isn't good for you or doesn't work wonders, we're leaving it out.

Schisandra

Has been shown to balance hormone via the upregulation of both phase 1 and phase 2 liver detoxification pathways.*

Mate

Mate is linked to increased alertness, improved concentration, reduced fatigue, and enhanced physical performance.*

Green Tea

High in ECGC which has been shown to accelerate fat loss and prevent new fat cells from forming. Increases "flow-state" energy due to the combination of L-theanine & Green Tea.*

Guarana

Commonly used for its ability to reduce fatigue, boost energy and aid learning and memory.*

Schisandra

Has been shown to balance hormone via the upregulation of both phase 1 and phase 2 liver detoxification pathways.*

Mate

Mate is linked to increased alertness, improved concentration, reduced fatigue, and enhanced physical performance.*

Green Tea

High in ECGC which has been shown to accelerate fat loss and prevent new fat cells from forming. Increases "flow-state" energy due to the combination of L-theanine & Green Tea.*

Guarana

Commonly used for its ability to reduce fatigue, boost energy and aid learning and memory.*

03. The Earthbar Standard.

Deeply committed to staying extremely selective...

We exist to help everyone become the healthiest version of themselves. That's why every supplement, smoothie, bowl and tincture is tested by our team, rated by holistic experts, tried by your neighbors and true to our 6-point set of standards. A truly curated selection of wellness products.

01. Efficacy
02. Potency + Dosing
03. Active Ingredient Evaluation
04. Bioavailability
05. Quality Ingredients
06. Sustainability

03. The Earthbar Standard.

Deeply committed to staying extremely selective...

We exist to help everyone become the healthiest version of themselves. That's why every supplement, smoothie, bowl and tincture is tested by our team, rated by holistic experts, tried by your neighbors and true to our 6-point set of standards. A truly curated selection of wellness products.

01. Efficacy
02. Potency + Dosing
03. Active Ingredient Evaluation
04. Bioavailability
05. Quality Ingredients
06. Sustainability