Support deep restorative sleep with a blend of key neuromodulator precursors & calming botanicals*

Our bodies require a good night's sleep for optimal performance during the day. We all go to bed with the hope of sleeping well, but on occasion our minds will not settle or we wake up throughout the night, and thus do not get the sleep we need. Time to Sleep is a formulary blend of botanicals and nutrients designed to support quality sleep and promote calm brain activity. It's ideal for those who occasionally have difficulty getting to sleep, or staying asleep through the night.*

1% of all purchases donated to IUCN and deforestation efforts to preserve intact rain forests on planet earth

Free shipping on orders over $100
Gluten Free

Non-GMO

Dairy Free

Vegan
(30) 2 capsule servings of Time To Sleep.
Take 2 capsules per day 30 to 60 minutes before bedtime or as directed by your health-care practitioner.
01. What it does.

Improves sleep quality & regulates natural sleep cycles*

Melatonin, a multifunctional hormone whose main role is to help regulate sleep by controlling our day and night biological rhythms, known as the 'circadian rhythm' or our 24-hour biological clock.*

Promotes relaxation & restorative sleep*

A unique herbal blend of valerian root, passion flower, lemon balm, and chamomile to provide relaxation without impairing memory, diminishing motor skills, or causing drowsiness upon awakening.*

Supports calm brain activity*

L-theanine, is an amino acid that can help promote calmness and improve the quality of sleep.*

Assists with falling asleep & staying asleep*

Gamma aminobutyric acid (GABA), the main calming agent in the body. It assists with the ability to get to sleep and stay asleep. This formula provides a novel, proprietary form of GABA that is naturally manufactured via a fermentation process and considered more effective than other traditional, chemically-produced.*
01. What it does.
Improves sleep quality & regulates natural sleep cycles*

Melatonin, a multifunctional hormone whose main role is to help regulate sleep by controlling our day and night biological rhythms, known as the 'circadian rhythm' or our 24-hour biological clock.*

Promotes relaxation & restorative sleep*

A unique herbal blend of valerian root, passion flower, lemon balm, and chamomile to provide relaxation without impairing memory, diminishing motor skills, or causing drowsiness upon awakening.*

Supports calm brain activity*

L-theanine, is an amino acid that can help promote calmness and improve the quality of sleep.*

Assists with falling asleep & staying asleep*

Gamma aminobutyric acid (GABA), the main calming agent in the body. It assists with the ability to get to sleep and stay asleep. This formula provides a novel, proprietary form of GABA that is naturally manufactured via a fermentation process and considered more effective than other traditional, chemically-produced.*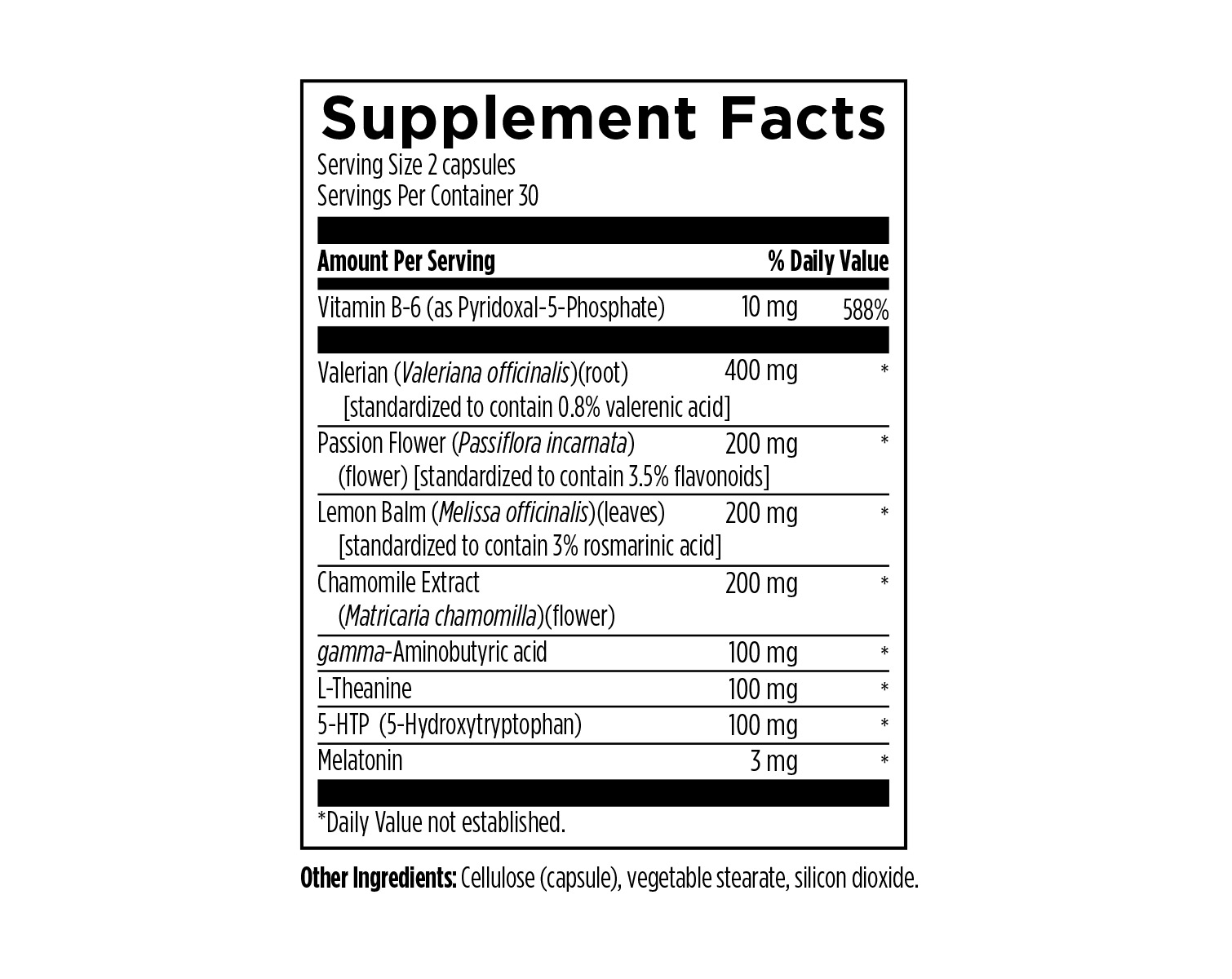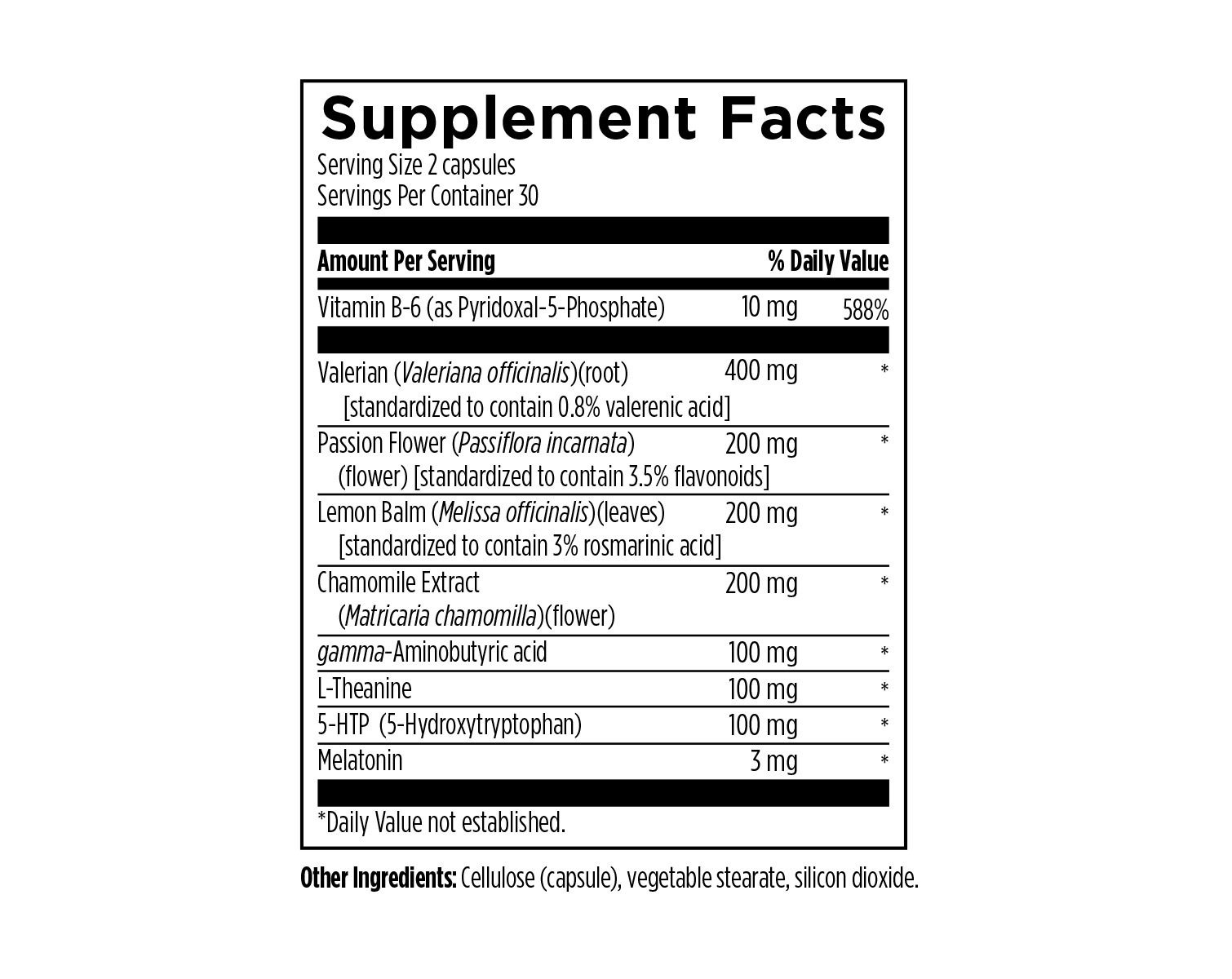 02. What's inside.

We're extremely selective and attentive with what goes in every Earthbar product. If it isn't good for you or doesn't work wonders, we're leaving it out.

Melatonin

Melatonin is a multifunctional hormone whose main role is to help regulate sleep by controlling our day and night biological rhythms, known as the 'circadian rhythm' or our 24-hour biological clock.*

5-HTP

5-hydroxytryptophan (5-HTP) is an important precursor to the neurotransmitter serotonin and the sleep hormone melatonin.*

GABA

GABA (gamma-Aminobutyric acid) is a vital calming neurotransmitter. It helps support a healthy response to emotional stress and may help with occasional anxiety due to its effect on over-stimulation and excitation in the brain.*

L-Theanine

L-Theanine is an amino acid found in tea that has been shown to support stress and occasional anxiety and promote relaxation.*

02. What's inside.

We're extremely selective and attentive with what goes in every Earthbar product. If it isn't good for you or doesn't work wonders, we're leaving it out.

Melatonin

Melatonin is a multifunctional hormone whose main role is to help regulate sleep by controlling our day and night biological rhythms, known as the 'circadian rhythm' or our 24-hour biological clock.*

5-HTP

5-hydroxytryptophan (5-HTP) is an important precursor to the neurotransmitter serotonin and the sleep hormone melatonin.*

GABA

GABA (gamma-Aminobutyric acid) is a vital calming neurotransmitter. It helps support a healthy response to emotional stress and may help with occasional anxiety due to its effect on over-stimulation and excitation in the brain.*

L-Theanine

L-Theanine is an amino acid found in tea that has been shown to support stress and occasional anxiety and promote relaxation.*

Melatonin

Melatonin is a multifunctional hormone whose main role is to help regulate sleep by controlling our day and night biological rhythms, known as the 'circadian rhythm' or our 24-hour biological clock.*

5-HTP

5-hydroxytryptophan (5-HTP) is an important precursor to the neurotransmitter serotonin and the sleep hormone melatonin.*

GABA

GABA (gamma-Aminobutyric acid) is a vital calming neurotransmitter. It helps support a healthy response to emotional stress and may help with occasional anxiety due to its effect on over-stimulation and excitation in the brain.*

L-Theanine

L-Theanine is an amino acid found in tea that has been shown to support stress and occasional anxiety and promote relaxation.*

03. The Earthbar Standard.

Deeply committed to staying extremely selective...

We exist to help everyone become the healthiest version of themselves. That's why every supplement, smoothie, bowl and tincture is tested by our team, rated by holistic experts, tried by your neighbors and true to our 6-point set of standards. A truly curated selection of wellness products.

01. Efficacy
02. Potency + Dosing
03. Active Ingredient Evaluation
04. Bioavailability
05. Quality Ingredients
06. Sustainability

03. The Earthbar Standard.

Deeply committed to staying extremely selective...

We exist to help everyone become the healthiest version of themselves. That's why every supplement, smoothie, bowl and tincture is tested by our team, rated by holistic experts, tried by your neighbors and true to our 6-point set of standards. A truly curated selection of wellness products.

01. Efficacy
02. Potency + Dosing
03. Active Ingredient Evaluation
04. Bioavailability
05. Quality Ingredients
06. Sustainability