Relax the body and mind at night with a unique blend of 3 highly absorbable forms of magnesium and lavender*

Sleep Potion is a unique blend of three highly absorbable forms of magnesium along with relaxation-supportive botanicals to help provide restful sleep One serving provides 300 mg of elemental magnesium in addition to botanicals that may support a healthy response to stress and help support sleep quality and duration.*

1% of all purchases donated to IUCN and deforestation efforts to preserve intact rain forests on planet earth

Free shipping on orders over $100
Gluten Free

Non-GMO

Dairy Free

Vegan
(30) 6g servings of Sleep Potion
Mix 6 grams (approximately one scoop) of powder in 8 ounces of water per day 30 to 60 minutes before bedtime or as directed by your health-care practitioner.
01. What it does.

Improves sleep quality*

Sleep Potion contains a blend of Montmorency cherry powder, California poppy, and lavender extract. Montmorency cherry powder (Prunus cerasus) has been shown to promote metabolism of melatonin and help support sleep quality and duration.*

Supports muscle relaxation*

Magnesium acts as a natural calcium blocker, helping your muscle cells relax after contracting. When magnesium levels are low, your muscles may contract too much and cause symptoms such as cramps or muscle spasms.*

Promotes restful sleep*

Lavender (Lavandula angustifolia) extract has been shown to improve sleep quality in clinical studies. Lavender has shown a significant beneficial influence on quality and duration of sleep & improved general mental and physical health without causing any unwanted sedative or other drug specific effects.*

Relieves stress*

California poppy (Eschscholzia californica) has been shown to have sedative and calming properties in animal studies. California poppy is commonly used alone or in combination with other herbs for anxiety, trouble sleeping (insomnia), aches, nervous agitation, and many other conditions.*
01. What it does.
Improves sleep quality*

Sleep Potion contains a blend of Montmorency cherry powder, California poppy, and lavender extract. Montmorency cherry powder (Prunus cerasus) has been shown to promote metabolism of melatonin and help support sleep quality and duration.*

Supports muscle relaxation*

Magnesium acts as a natural calcium blocker, helping your muscle cells relax after contracting. When magnesium levels are low, your muscles may contract too much and cause symptoms such as cramps or muscle spasms.*

Promotes restful sleep*

Lavender (Lavandula angustifolia) extract has been shown to improve sleep quality in clinical studies. Lavender has shown a significant beneficial influence on quality and duration of sleep & improved general mental and physical health without causing any unwanted sedative or other drug specific effects.*

Relieves stress*

California poppy (Eschscholzia californica) has been shown to have sedative and calming properties in animal studies. California poppy is commonly used alone or in combination with other herbs for anxiety, trouble sleeping (insomnia), aches, nervous agitation, and many other conditions.*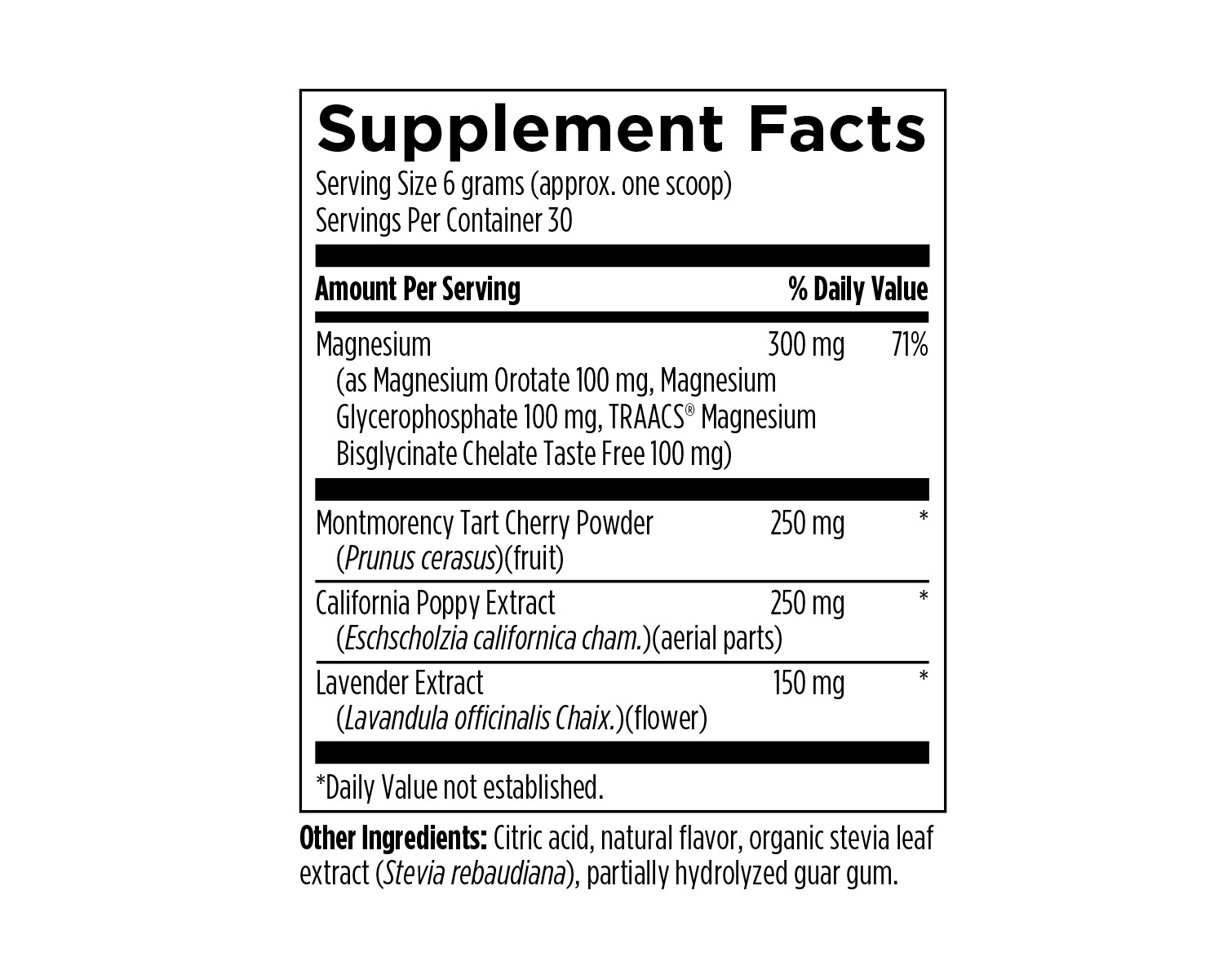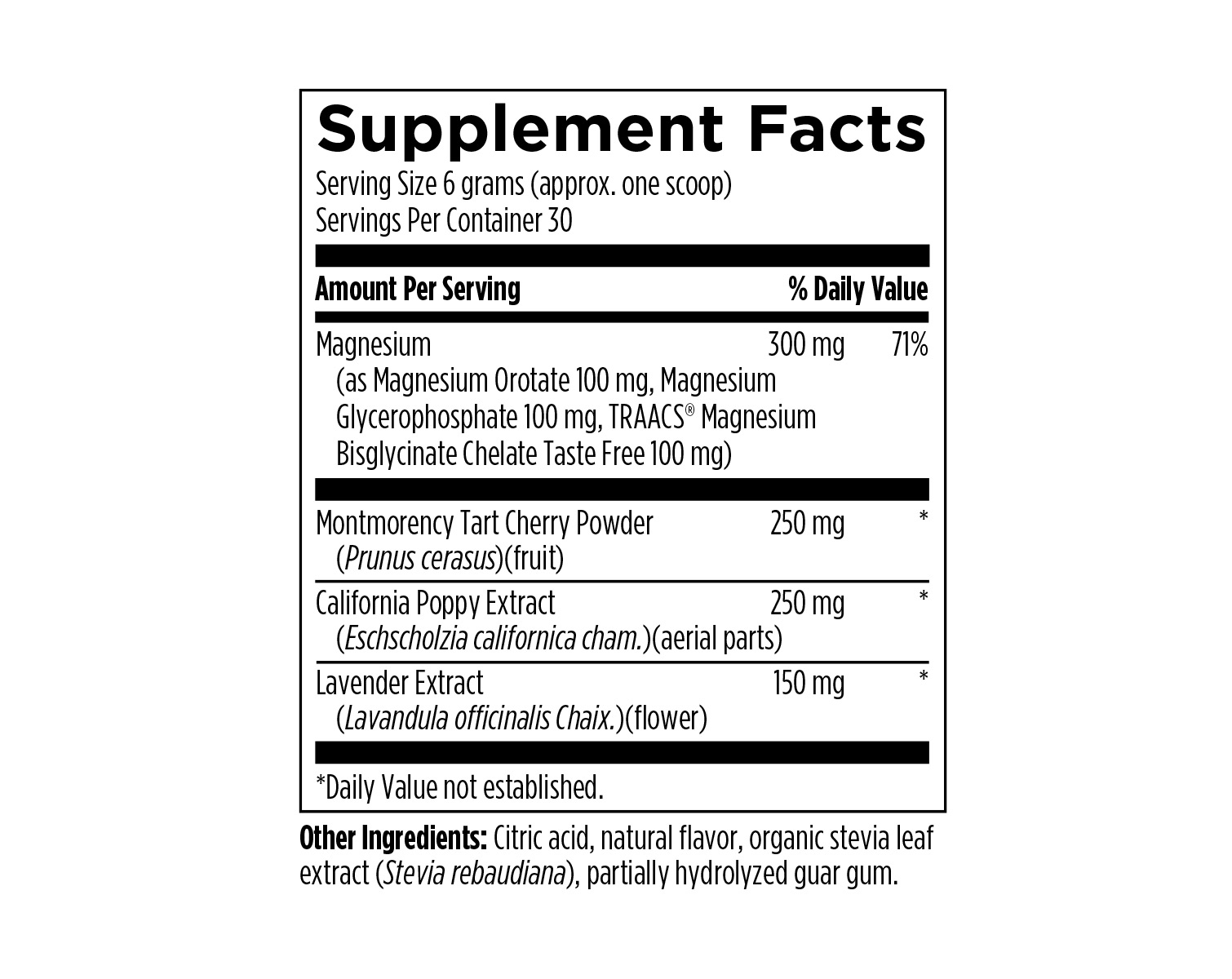 02. What's inside.

We're extremely selective and attentive with what goes in every Earthbar product. If it isn't good for you or doesn't work wonders, we're leaving it out.

Magnesium

Healthy magnesium levels protect metabolic health, stabilize mood, keep stress in check, promote better sleep, and contribute to heart and bone health.*

California Poppy

California poppy (Eschscholzia californica) has been shown to have sedative and calming properties in animal studies.*

Montmorency Cherry

Montmorency cherry powder (Prunus cerasus) has been shown to promote metabolism of melatonin and help support sleep quality and duration.*

Lavender Extract

Lavender (Lavandula angustifolia) extract has been shown to improve sleep quality in clinical studies.*

02. What's inside.

We're extremely selective and attentive with what goes in every Earthbar product. If it isn't good for you or doesn't work wonders, we're leaving it out.

Magnesium

Healthy magnesium levels protect metabolic health, stabilize mood, keep stress in check, promote better sleep, and contribute to heart and bone health.*

California Poppy

California poppy (Eschscholzia californica) has been shown to have sedative and calming properties in animal studies.*

Montmorency Cherry

Montmorency cherry powder (Prunus cerasus) has been shown to promote metabolism of melatonin and help support sleep quality and duration.*

Lavender Extract

Lavender (Lavandula angustifolia) extract has been shown to improve sleep quality in clinical studies.*

Magnesium

Healthy magnesium levels protect metabolic health, stabilize mood, keep stress in check, promote better sleep, and contribute to heart and bone health.*

California Poppy

California poppy (Eschscholzia californica) has been shown to have sedative and calming properties in animal studies.*

Montmorency Cherry

Montmorency cherry powder (Prunus cerasus) has been shown to promote metabolism of melatonin and help support sleep quality and duration.*

Lavender Extract

Lavender (Lavandula angustifolia) extract has been shown to improve sleep quality in clinical studies.*

03. The Earthbar Standard.

Deeply committed to staying extremely selective...

We exist to help everyone become the healthiest version of themselves. That's why every supplement, smoothie, bowl and tincture is tested by our team, rated by holistic experts, tried by your neighbors and true to our 6-point set of standards. A truly curated selection of wellness products.

01. Efficacy
02. Potency + Dosing
03. Active Ingredient Evaluation
04. Bioavailability
05. Quality Ingredients
06. Sustainability

03. The Earthbar Standard.

Deeply committed to staying extremely selective...

We exist to help everyone become the healthiest version of themselves. That's why every supplement, smoothie, bowl and tincture is tested by our team, rated by holistic experts, tried by your neighbors and true to our 6-point set of standards. A truly curated selection of wellness products.

01. Efficacy
02. Potency + Dosing
03. Active Ingredient Evaluation
04. Bioavailability
05. Quality Ingredients
06. Sustainability