The Detoxifier is your liver's best friend

Protect liver cells, increase detoxification and improve blood flow with this detox shot super-powered with a full dose of Earthbar's It's Time To Detox herbal tonic.*

Fresh to your door – Important shipping information
We're proud of our premium juices and the amazing benefits you feel by enjoying them fresh. For that reason, juices are shipped with care via 1 or 2-day shipping, and sent out only on Mondays, Tuesdays and Wednesdays, so that your juice is never in transit over a weekend. This means that orders placed by Tuesday night will always arrive that same week, while orders placed Wednesday morning or later will often ship the following Monday.

To ensure the best experience, our Juices & Wellness Shots have a $100 minimum order in any combination, and currently ship to the following states: CA, AZ, NV, UT, OR, WA, ID, CO.

1% of all purchases donated to IUCN and deforestation efforts to preserve intact rain forests on planet earth

Free shipping on orders over $100
Gluten Free

Non-GMO

Dairy Free

Vegan
A 2 fl oz (59 ml) shot of The Detoxifier.
Drink and enjoy. Keep refrigerated. Consume within 3 days of opening.
01. What it does.

Protects liver cells*

Milk thistle extract may protect the cells of the liver by both blocking the entrance of harmful toxins and helping remove these toxins from the liver cells. Milk thistle has also been reported to regenerate injured liver cells.*

Improves blood flow*

Beetroot juice increases levels of nitric oxide (NO), which serves multiple functions related to increased blood flow, gas exchange, mitochondrial biogenesis and efficiency, and strengthening of muscle contraction.*

Detoxifies blood*

Burdock root has been shown to contain active constituents that can remove toxins from the bloodstream.*
01. What it does.
Protects liver cells*

Milk thistle extract may protect the cells of the liver by both blocking the entrance of harmful toxins and helping remove these toxins from the liver cells. Milk thistle has also been reported to regenerate injured liver cells.*

Improves blood flow*

Beetroot juice increases levels of nitric oxide (NO), which serves multiple functions related to increased blood flow, gas exchange, mitochondrial biogenesis and efficiency, and strengthening of muscle contraction.*

Detoxifies blood*

Burdock root has been shown to contain active constituents that can remove toxins from the bloodstream.*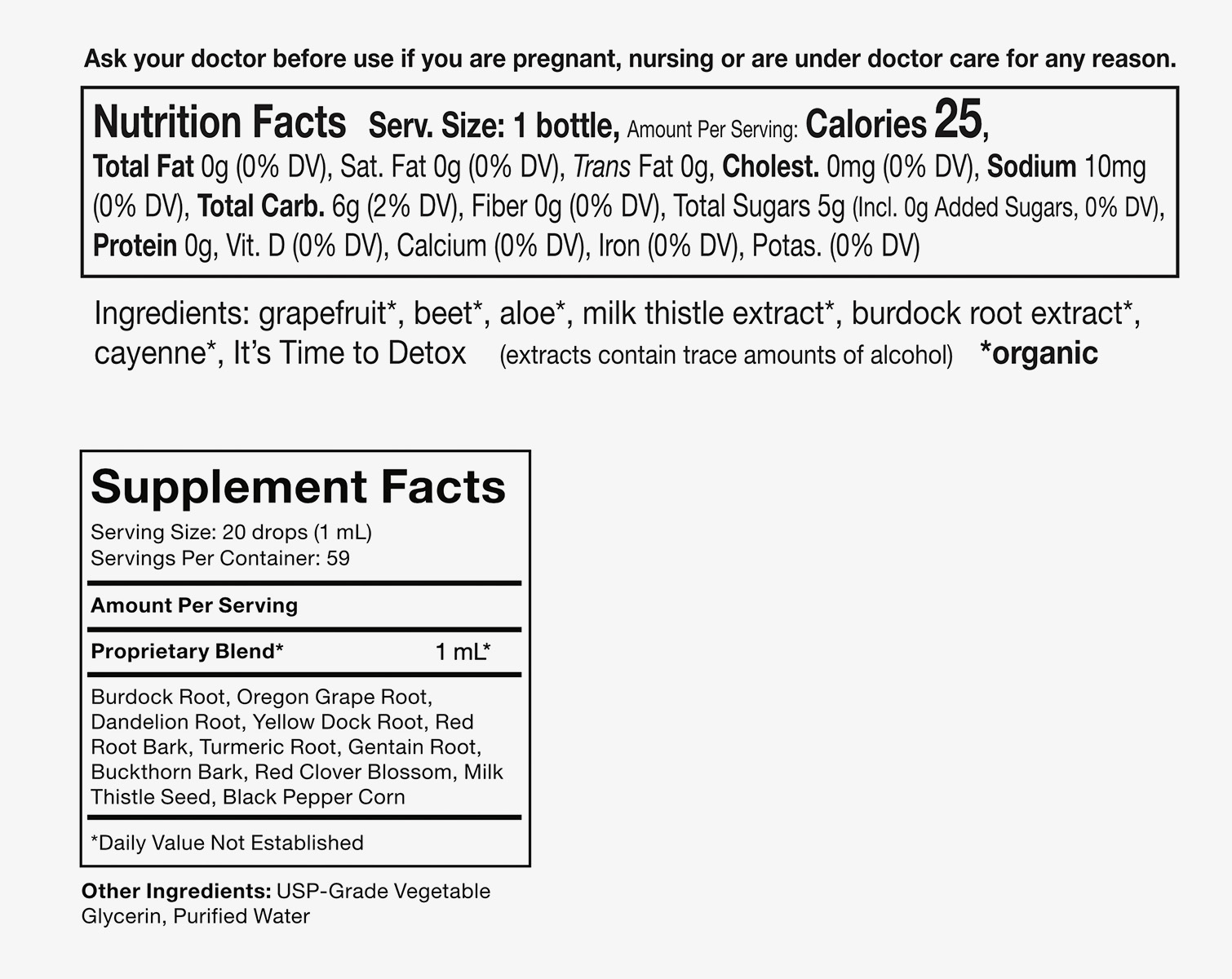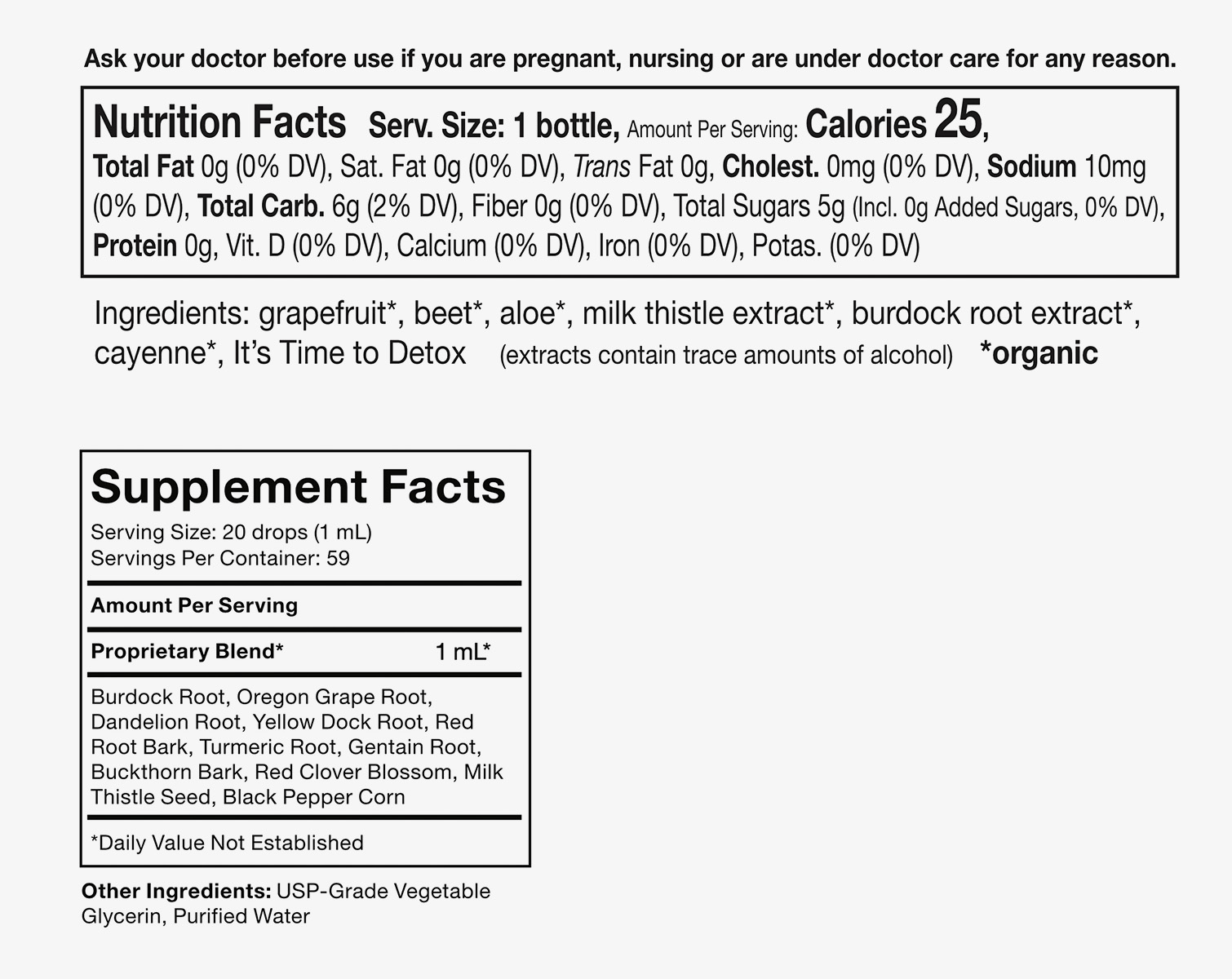 02. What's inside.

We're extremely selective and attentive with what goes in every Earthbar product. If it isn't good for you or doesn't work wonders, we're leaving it out.

Milk Thistle

Antioxidants (silymarin and silybin) prevents tissue scarring, protecting the liver - particularly from the effects of alcohol.*

Burdock Root

Burdock root has been shown to help detoxify blood, the lymphatic system and skin.*

Beet Root

High in immune-boosting vitamin c, essential minerals like potassium for muscle function, and manganese which is important for your bones, liver, and kidneys.*

Cayenne

Active compound capsaicin helps reduce formation of liver scar tissue and increases blood circulation.*

02. What's inside.

We're extremely selective and attentive with what goes in every Earthbar product. If it isn't good for you or doesn't work wonders, we're leaving it out.

Milk Thistle

Antioxidants (silymarin and silybin) prevents tissue scarring, protecting the liver - particularly from the effects of alcohol.*

Burdock Root

Burdock root has been shown to help detoxify blood, the lymphatic system and skin.*

Beet Root

High in immune-boosting vitamin c, essential minerals like potassium for muscle function, and manganese which is important for your bones, liver, and kidneys.*

Cayenne

Active compound capsaicin helps reduce formation of liver scar tissue and increases blood circulation.*

Milk Thistle

Antioxidants (silymarin and silybin) prevents tissue scarring, protecting the liver - particularly from the effects of alcohol.*

Burdock Root

Burdock root has been shown to help detoxify blood, the lymphatic system and skin.*

Beet Root

High in immune-boosting vitamin c, essential minerals like potassium for muscle function, and manganese which is important for your bones, liver, and kidneys.*

Cayenne

Active compound capsaicin helps reduce formation of liver scar tissue and increases blood circulation.*

03. The Earthbar Standard.

Deeply committed to staying extremely selective...

We exist to help everyone become the healthiest version of themselves. That's why every supplement, smoothie, bowl and tincture is tested by our team, rated by holistic experts, tried by your neighbors and true to our 6-point set of standards. A truly curated selection of wellness products.

01. Efficacy
02. Potency + Dosing
03. Active Ingredient Evaluation
04. Bioavailability
05. Quality Ingredients
06. Sustainability

03. The Earthbar Standard.

Deeply committed to staying extremely selective...

We exist to help everyone become the healthiest version of themselves. That's why every supplement, smoothie, bowl and tincture is tested by our team, rated by holistic experts, tried by your neighbors and true to our 6-point set of standards. A truly curated selection of wellness products.

01. Efficacy
02. Potency + Dosing
03. Active Ingredient Evaluation
04. Bioavailability
05. Quality Ingredients
06. Sustainability