Earthbar
Liposomal Vitamin C
The quintessential vitamin for immune and detox support
Our Earthbar vitamin C uses a liposomal delivery system that bypasses the typical absorption constraints in the gut, delivering this nutrient directly to the cells for rapid uptake and effect.*
Immunity

Beauty

Anti-Aging

Essentials
1% of all purchases donated to IUCN and deforestation efforts to preserve intact rain forests on planet earth
Free shipping on orders over $100
Gluten Free

Non-GMO

Dairy Free

Vegan
20 5ml (1 tsp) 1000mg servings of Earthbar Liposomal Vitamin C per 3.4oz bottle.
Take 1 teaspoon by mouth. Hold in mouth 30 seconds before swallowing. Repeat to the desired dosage or as directed by a healthcare professional. Take an empty stomach, at least 10 minutes before meals. Use within 60 days of opening. If pregnant, consult a physician before use. Refrigerate after opening.
01. What it does.

Provides 1000mg Liposomal Vitamin C Buffered + Non-GMO*

Buffered vitamin C is generally better tolerated by those with gastrointestinal sensitivity.*

Optimizes for healthy immune function*

Vitamin C is an essential nutrient that assists in the formation and maintenance of bones, blood vessels, and skin while strengthening your immunity.*

Supports the building & maintenance of healthy collagen*

Vitamin C is vital in the production of collagen. Without Vitamin C, the body can't form collagen, making this antioxidant an essential cofactor in collagen synthesis.*

Protects against free radical damage*

Our Earthbar Vitamin C utilizes Liposomal technology that delivers more to the cells to better support immunity, collagen production, and antioxidant protection.*

Improves your body's ability maintain cellular health*

Vitamin C helps protect cells and assists in keeping them healthy. Vitamin C is also crucial in maintaining healthy skin, blood vessels, bones and cartilage.*
01. What it does.
Provides 1000mg Liposomal Vitamin C Buffered + Non-GMO*

Buffered vitamin C is generally better tolerated by those with gastrointestinal sensitivity.*

Optimizes for healthy immune function*

Vitamin C is an essential nutrient that assists in the formation and maintenance of bones, blood vessels, and skin while strengthening your immunity.*

Supports the building & maintenance of healthy collagen*

Vitamin C is vital in the production of collagen. Without Vitamin C, the body can't form collagen, making this antioxidant an essential cofactor in collagen synthesis.*

Protects against free radical damage*

Our Earthbar Vitamin C utilizes Liposomal technology that delivers more to the cells to better support immunity, collagen production, and antioxidant protection.*

Improves your body's ability maintain cellular health*

Vitamin C helps protect cells and assists in keeping them healthy. Vitamin C is also crucial in maintaining healthy skin, blood vessels, bones and cartilage.*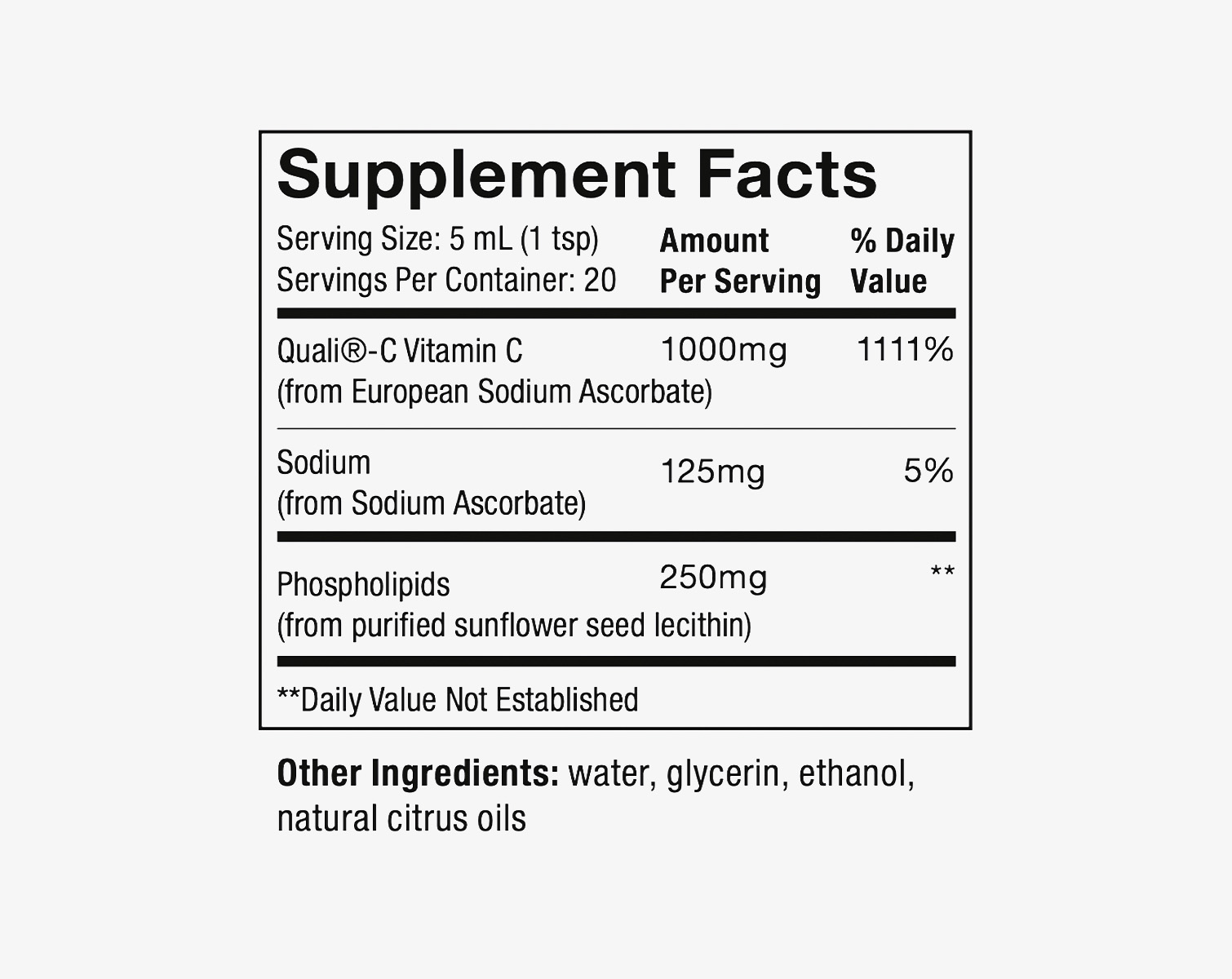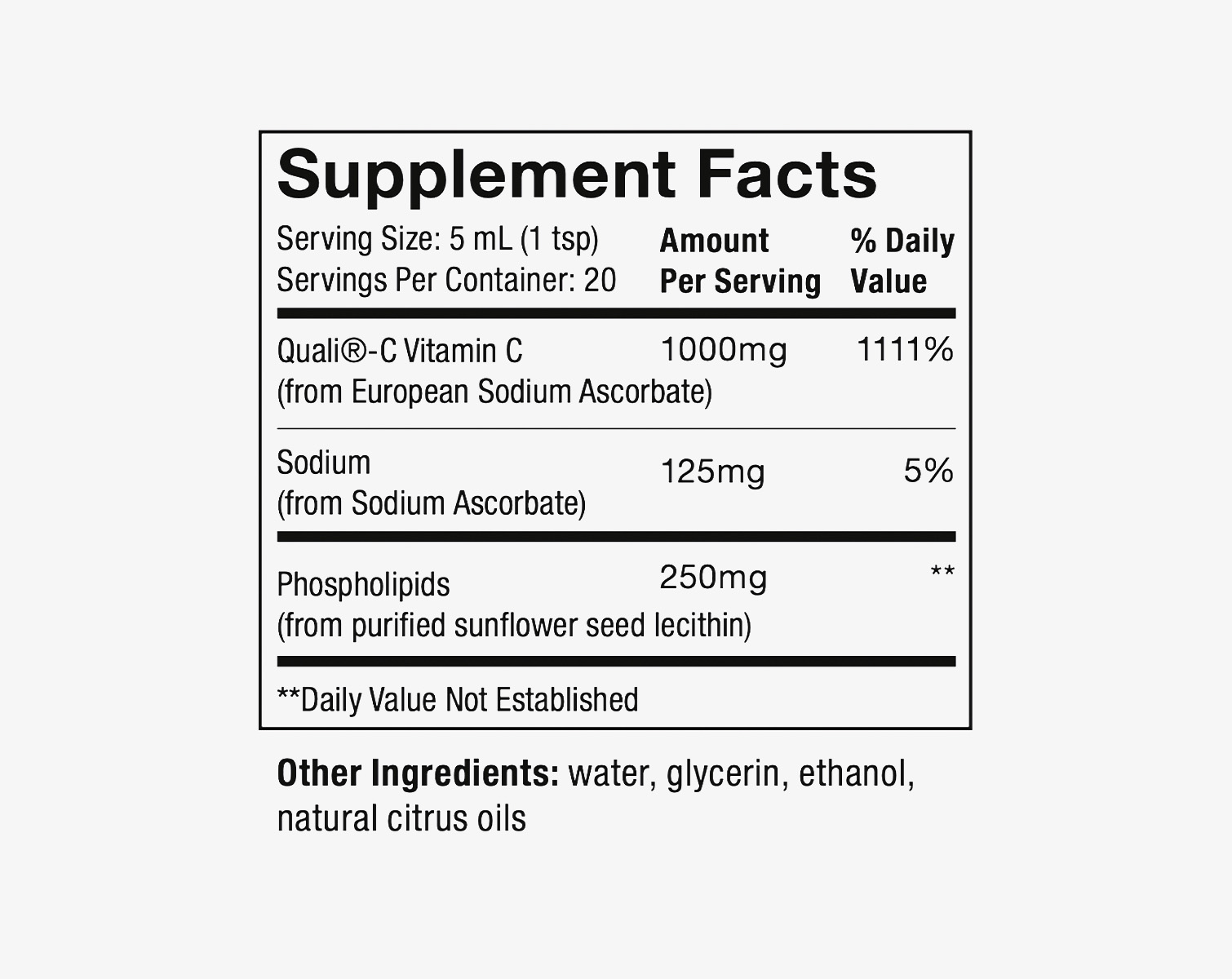 02. What's inside.

We're extremely selective and attentive with what goes in every Earthbar product. If it isn't good for you or doesn't work wonders, we're leaving it out.

Quali®-C Vitamin C

Quali®-C - the world's first branded vitamin C – is manufactured at the Dalry site, providing customers with guaranteed peace of mind when it comes to quality, reliability, traceability and sustainability.*

Phospholipids

Phospholipids are molecules with hydrophilic phosphate heads and hydrophobic lipid tails. They comprise cellular membranes, regulate certain cellular processes, and possess both stabilizing and dynamic qualities that can aid in nutrient delivery.*

02. What's inside.

We're extremely selective and attentive with what goes in every Earthbar product. If it isn't good for you or doesn't work wonders, we're leaving it out.

Quali®-C Vitamin C

Quali®-C - the world's first branded vitamin C – is manufactured at the Dalry site, providing customers with guaranteed peace of mind when it comes to quality, reliability, traceability and sustainability.*

Phospholipids

Phospholipids are molecules with hydrophilic phosphate heads and hydrophobic lipid tails. They comprise cellular membranes, regulate certain cellular processes, and possess both stabilizing and dynamic qualities that can aid in nutrient delivery.*

Quali®-C Vitamin C

Quali®-C - the world's first branded vitamin C – is manufactured at the Dalry site, providing customers with guaranteed peace of mind when it comes to quality, reliability, traceability and sustainability.*

Phospholipids

Phospholipids are molecules with hydrophilic phosphate heads and hydrophobic lipid tails. They comprise cellular membranes, regulate certain cellular processes, and possess both stabilizing and dynamic qualities that can aid in nutrient delivery.*

03. The Earthbar Standard.

Deeply committed to staying extremely selective...

We exist to help everyone become the healthiest version of themselves. That's why every supplement, smoothie, bowl and tincture is tested by our team, rated by holistic experts, tried by your neighbors and true to our 6-point set of standards. A truly curated selection of wellness products.

01. Efficacy
02. Potency + Dosing
03. Active Ingredient Evaluation
04. Bioavailability
05. Quality Ingredients
06. Sustainability

03. The Earthbar Standard.

Deeply committed to staying extremely selective...

We exist to help everyone become the healthiest version of themselves. That's why every supplement, smoothie, bowl and tincture is tested by our team, rated by holistic experts, tried by your neighbors and true to our 6-point set of standards. A truly curated selection of wellness products.

01. Efficacy
02. Potency + Dosing
03. Active Ingredient Evaluation
04. Bioavailability
05. Quality Ingredients
06. Sustainability