Earthbar
Liposomal Ultimate Immune +
Fasting-acting support against seasonal immune challenges
Can be taken for regular or intensive use as needed. Includes a powerful 2 mg vitamin C, 10,000 IU vitamin D & 25,000 IU vitamin A per serving to support a healthy immune response.*
1% of all purchases donated to IUCN and deforestation efforts to preserve intact rain forests on planet earth
Free shipping on orders over $100
Gluten Free

Non-GMO

Dairy Free

Vegan
20 5ml (1 tsp) servings of Earthbar Ultimate Immune+ per 3.4oz bottle.
Take 1 tsp (5 mL) daily, or as directed by a your healthcare professional. Refrigerate after opening.
01. What it does.

Provides high quality standardized elderberry extract*

In traditional herbalism, elderberry has been used to support immune defenses and common health disruptions.*

Supports both your acute & your daily immunity needs*

Earthbar Ultimate Immune+ can be taken in smaller daily doses for year round immune support, or higher doses during time of acute immune distress.*

Protects Respiratory Health*

Vitamin C supports lung cells to aid respiratory health. And vitamin E helps safeguard delicate cell membranes.*

Optimizes natural immune response*

With a powerful 2 mg vitamin C, 10,000 IU vitamin D & 25,000 IU vitamin A per serving, Earthbar's Ultimate Immune+ provides the basics needed to support a healthy daily immune response.*

Improves antioxidant status*

Tocotrienols are a form of Vitamin E. Vitamin E is an antioxidant that helps to neutralize free radicals. Free radicals are chemicals linked to a host of health issues, including skin aging, inflammation and numerous diseases.*
01. What it does.
Provides high quality standardized elderberry extract*

In traditional herbalism, elderberry has been used to support immune defenses and common health disruptions.*

Supports both your acute & your daily immunity needs*

Earthbar Ultimate Immune+ can be taken in smaller daily doses for year round immune support, or higher doses during time of acute immune distress.*

Protects Respiratory Health*

Vitamin C supports lung cells to aid respiratory health. And vitamin E helps safeguard delicate cell membranes.*

Optimizes natural immune response*

With a powerful 2 mg vitamin C, 10,000 IU vitamin D & 25,000 IU vitamin A per serving, Earthbar's Ultimate Immune+ provides the basics needed to support a healthy daily immune response.*

Improves antioxidant status*

Tocotrienols are a form of Vitamin E. Vitamin E is an antioxidant that helps to neutralize free radicals. Free radicals are chemicals linked to a host of health issues, including skin aging, inflammation and numerous diseases.*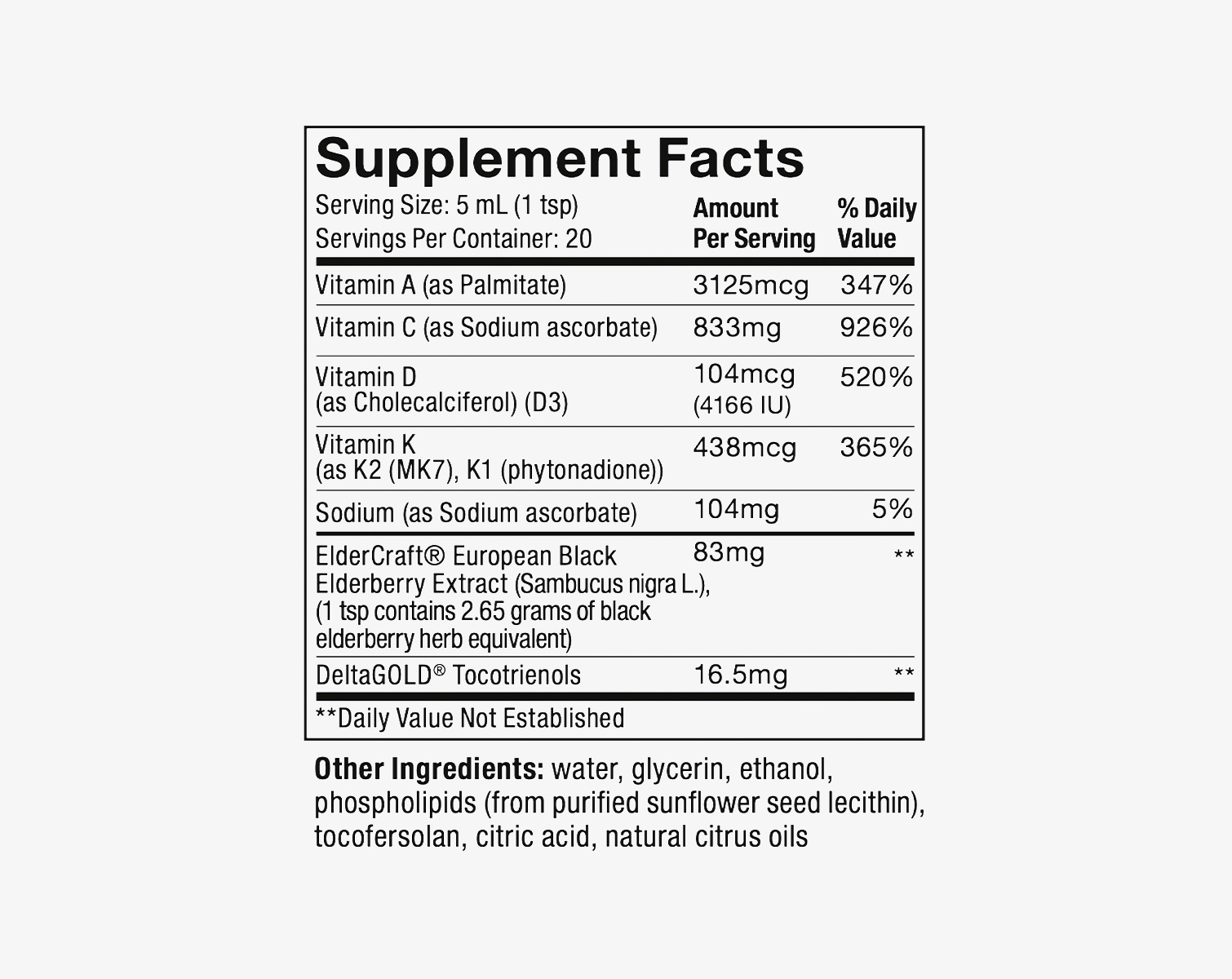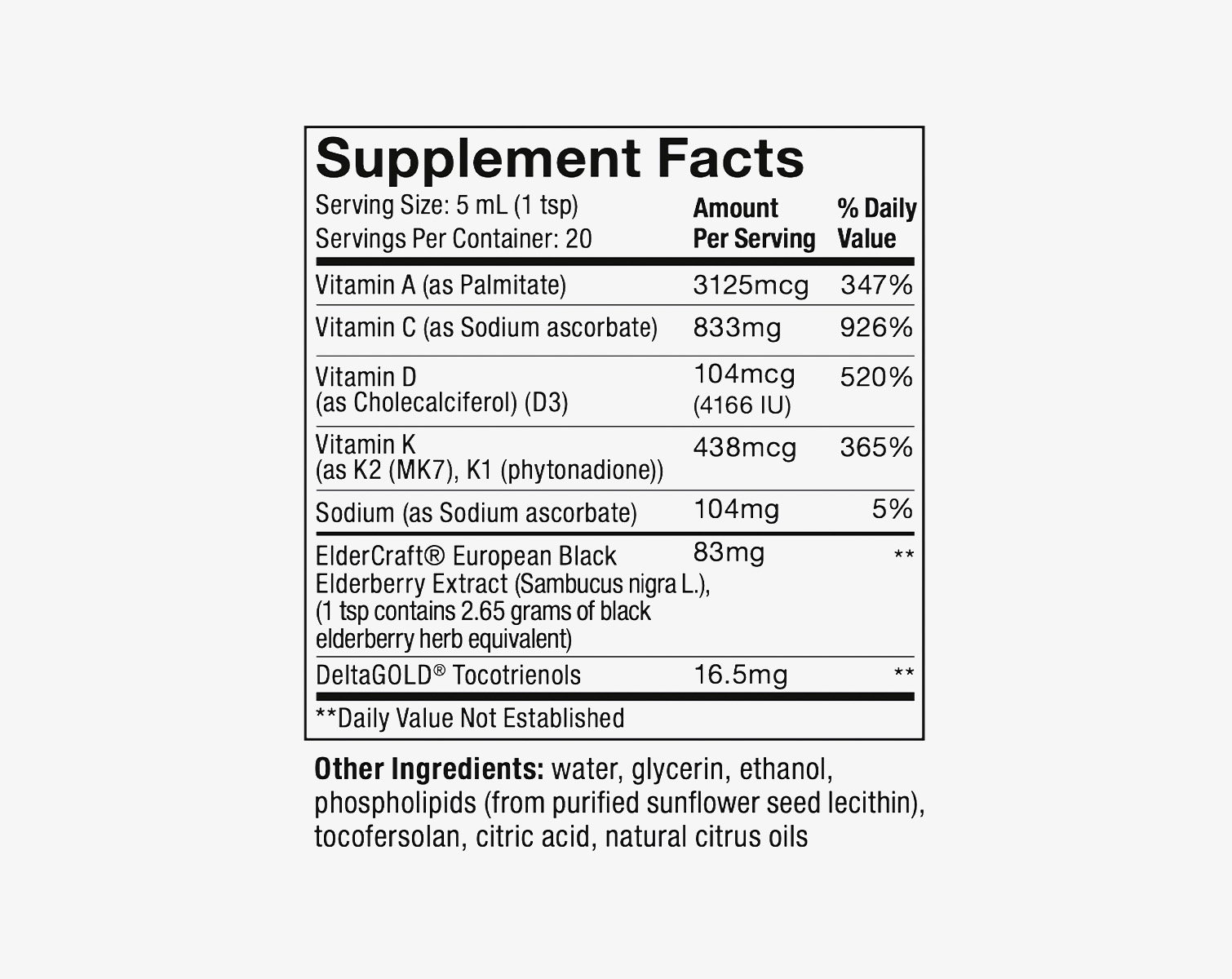 02. What's inside.

We're extremely selective and attentive with what goes in every Earthbar product. If it isn't good for you or doesn't work wonders, we're leaving it out.

Vitamin C

Vitamin C helps support lung and respiratory health.*

Vitamin D3

Vitamin D is involved in calcium absorption, immune function, and protecting bone, muscle, and heart health.*

Vitamin K

Vitamin K helps guide vitamin D into the bones and may reduce harmful calcium deposits in arteries, kidneys, and soft tissues.*

ElderCraft® European Black Elderberry Extract

In traditional herbalism, elderberry has been used to support immune defenses and common health disruptions.*

02. What's inside.

We're extremely selective and attentive with what goes in every Earthbar product. If it isn't good for you or doesn't work wonders, we're leaving it out.

Vitamin C

Vitamin C helps support lung and respiratory health.*

Vitamin D3

Vitamin D is involved in calcium absorption, immune function, and protecting bone, muscle, and heart health.*

Vitamin K

Vitamin K helps guide vitamin D into the bones and may reduce harmful calcium deposits in arteries, kidneys, and soft tissues.*

ElderCraft® European Black Elderberry Extract

In traditional herbalism, elderberry has been used to support immune defenses and common health disruptions.*

Vitamin C

Vitamin C helps support lung and respiratory health.*

Vitamin D3

Vitamin D is involved in calcium absorption, immune function, and protecting bone, muscle, and heart health.*

Vitamin K

Vitamin K helps guide vitamin D into the bones and may reduce harmful calcium deposits in arteries, kidneys, and soft tissues.*

ElderCraft® European Black Elderberry Extract

In traditional herbalism, elderberry has been used to support immune defenses and common health disruptions.*

03. The Earthbar Standard.

Deeply committed to staying extremely selective...

We exist to help everyone become the healthiest version of themselves. That's why every supplement, smoothie, bowl and tincture is tested by our team, rated by holistic experts, tried by your neighbors and true to our 6-point set of standards. A truly curated selection of wellness products.

01. Efficacy
02. Potency + Dosing
03. Active Ingredient Evaluation
04. Bioavailability
05. Quality Ingredients
06. Sustainability

03. The Earthbar Standard.

Deeply committed to staying extremely selective...

We exist to help everyone become the healthiest version of themselves. That's why every supplement, smoothie, bowl and tincture is tested by our team, rated by holistic experts, tried by your neighbors and true to our 6-point set of standards. A truly curated selection of wellness products.

01. Efficacy
02. Potency + Dosing
03. Active Ingredient Evaluation
04. Bioavailability
05. Quality Ingredients
06. Sustainability