Liposomal D3/K2
Our Earthbar liposomal K2/D3 offers optimal replenishment of two of nature's most crucial vitamins. With the ideal balance of vitamins D and K, our blend is in a form your body can quickly absorb and use.*
Immunity

Essentials

Beauty

Anti-Aging
1% of all purchases donated to IUCN and deforestation efforts to preserve intact rain forests on planet earth
Free shipping on orders over $100
Gluten Free

Non-GMO

Dairy Free

Vegan
100 .5ml (1 pump) servings of Earthbar K2/D3 per 1.7oz bottle.
Take 1 pump by mouth 1-2 times daily. Hold in mouth 30 seconds before swallowing. Repeat to desired dosage or as directed by a healthcare professional. Take on an empty stomach, at least 10 minutes before meals. If pregnant, consult a physician before use. Refrigerate after opening.
01. What it does.

Provides 2500IU liposomal Vitamin D3 & 90mcg Vitamin K2*

Absorption issues and lack of sun exposure can easily lead to Vitamin D deficiency. Our product offers D3 alongside bioactive K2 to help support strong bones, immunity, mood, and arterial health.*

Supports a healthy vascular system*

Vitamin K2 is associated with the inhibition of arterial calcification and arterial stiffening. An adequate intake of vitamin K2 has been shown to lower the risk of vascular damage because it activates matrix GLA protein (MGP), which inhibits the deposits of calcium on the walls.*

Provides the perfect balance of vitamins D3 & K2*

Taking vitamins D and K together can amplify their effects and minimize the risks of supplementing D alone. Vitamin K helps guide vitamin D into the bones and may reduce harmful calcium deposits in arteries, kidneys, and soft tissues.*

Protects skin & other collagenous tissues*

Vitamin K2 helps protect collagen. When healthy collagen production is maintained, skin appears more, plump, smooth and youthful. Vitamin K2 assists skin in maintaining its elasticity, hence, preventing wrinkles and fine lines.*

Improves natural immune response*

Vitamin D is a fat-soluble nutrient essential to the health and functioning of the immune system. Vitamin D enhances the pathogen-fighting effects of monocytes and macrophages - white blood cells that are important parts of your immune defense.*
01. What it does.
Provides 2500IU liposomal Vitamin D3 & 90mcg Vitamin K2*

Absorption issues and lack of sun exposure can easily lead to Vitamin D deficiency. Our product offers D3 alongside bioactive K2 to help support strong bones, immunity, mood, and arterial health.*

Supports a healthy vascular system*

Vitamin K2 is associated with the inhibition of arterial calcification and arterial stiffening. An adequate intake of vitamin K2 has been shown to lower the risk of vascular damage because it activates matrix GLA protein (MGP), which inhibits the deposits of calcium on the walls.*

Provides the perfect balance of vitamins D3 & K2*

Taking vitamins D and K together can amplify their effects and minimize the risks of supplementing D alone. Vitamin K helps guide vitamin D into the bones and may reduce harmful calcium deposits in arteries, kidneys, and soft tissues.*

Protects skin & other collagenous tissues*

Vitamin K2 helps protect collagen. When healthy collagen production is maintained, skin appears more, plump, smooth and youthful. Vitamin K2 assists skin in maintaining its elasticity, hence, preventing wrinkles and fine lines.*

Improves natural immune response*

Vitamin D is a fat-soluble nutrient essential to the health and functioning of the immune system. Vitamin D enhances the pathogen-fighting effects of monocytes and macrophages - white blood cells that are important parts of your immune defense.*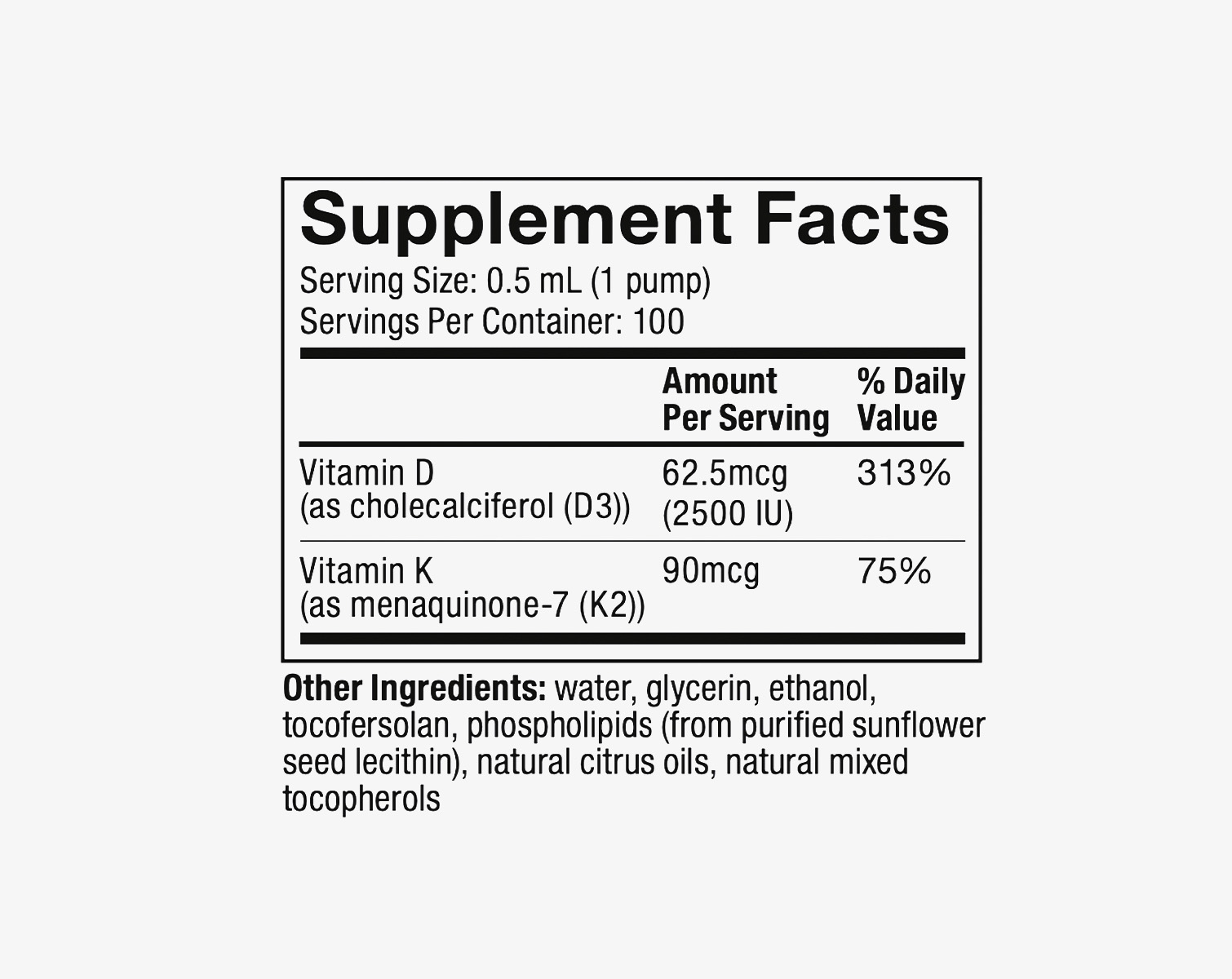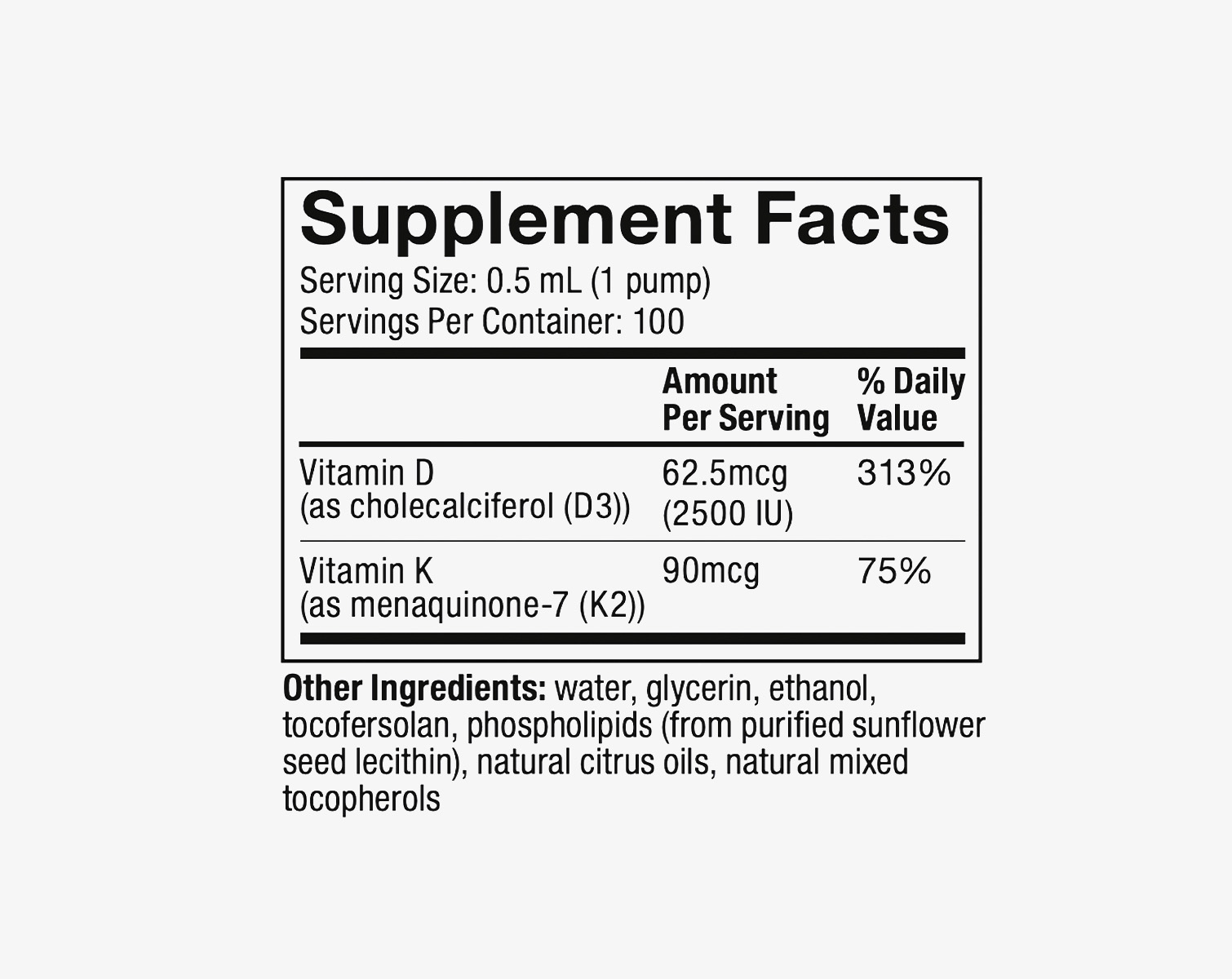 02. What's inside.

We're extremely selective and attentive with what goes in every Earthbar product. If it isn't good for you or doesn't work wonders, we're leaving it out.

Vitamin D3

Vitamin D is involved in calcium absorption, immune function, and protecting bone, muscle, and heart health.*

Vitamin K

Vitamin K helps guide vitamin D into the bones and may reduce harmful calcium deposits in arteries, kidneys, and soft tissues.*

Phosphatidylcholine

Phosphatidylcholine is a chemical contained in eggs, soybeans, mustard, sunflower, and other foods. It is found naturally in the body in all cells. Phosphatidylcholine is also a source of choline in the body.*

02. What's inside.

We're extremely selective and attentive with what goes in every Earthbar product. If it isn't good for you or doesn't work wonders, we're leaving it out.

Vitamin D3

Vitamin D is involved in calcium absorption, immune function, and protecting bone, muscle, and heart health.*

Vitamin K

Vitamin K helps guide vitamin D into the bones and may reduce harmful calcium deposits in arteries, kidneys, and soft tissues.*

Phosphatidylcholine

Phosphatidylcholine is a chemical contained in eggs, soybeans, mustard, sunflower, and other foods. It is found naturally in the body in all cells. Phosphatidylcholine is also a source of choline in the body.*

Vitamin D3

Vitamin D is involved in calcium absorption, immune function, and protecting bone, muscle, and heart health.*

Vitamin K

Vitamin K helps guide vitamin D into the bones and may reduce harmful calcium deposits in arteries, kidneys, and soft tissues.*

Phosphatidylcholine

Phosphatidylcholine is a chemical contained in eggs, soybeans, mustard, sunflower, and other foods. It is found naturally in the body in all cells. Phosphatidylcholine is also a source of choline in the body.*

03. The Earthbar Standard.

Deeply committed to staying extremely selective...

We exist to help everyone become the healthiest version of themselves. That's why every supplement, smoothie, bowl and tincture is tested by our team, rated by holistic experts, tried by your neighbors and true to our 6-point set of standards. A truly curated selection of wellness products.

01. Efficacy
02. Dosing + Potency
03. Active Ingredient Evaluation
04. Bioavailability
05. Quality Ingredients
06. Sustainability

03. The Earthbar Standard.

Deeply committed to staying extremely selective...

We exist to help everyone become the healthiest version of themselves. That's why every supplement, smoothie, bowl and tincture is tested by our team, rated by holistic experts, tried by your neighbors and true to our 6-point set of standards. A truly curated selection of wellness products.

01. Efficacy
02. Dosing + Potency
03. Active Ingredient Evaluation
04. Bioavailability
05. Quality Ingredients
06. Sustainability