Genius Gourmet
Genius Gourmet Keto Snack Chips Ranch
Refuel Your Body with Genius Gourmet Keto Chips 
Genius Gourmet keto snack chips are the perfect low sugar and low carb snack to satisfy your hunger cravings while maintaining your keto diet.*
1% of all purchases donated to IUCN and deforestation efforts to preserve intact rain forests on planet earth
Free shipping on orders over $100
A 1.13oz bag of Keto Snack Chips.
01. What it does.

Provides 8g of protein per serving

These delicious & crispy savory keto chips contain 8g of protein to help you stay energized throughout the day.*

Only 2g Net Carbs

Each bag of keto snack chips is sugar-free and has only 2g of net carbs.*

Premium MCT's

Eat healthy without sacrificing taste and get an extra boost of ketone producing MCT's from our keto chips.*

2g Fiber per serving

Low Carb Keto Chips are a great fiber rich alternative to tortilla chips. Now everyone can enjoy and indulge in a delicious keto snack whenever they want.*
01. What it does.
Provides 8g of protein per serving

These delicious & crispy savory keto chips contain 8g of protein to help you stay energized throughout the day.*

Only 2g Net Carbs

Each bag of keto snack chips is sugar-free and has only 2g of net carbs.*

Premium MCT's

Eat healthy without sacrificing taste and get an extra boost of ketone producing MCT's from our keto chips.*

2g Fiber per serving

Low Carb Keto Chips are a great fiber rich alternative to tortilla chips. Now everyone can enjoy and indulge in a delicious keto snack whenever they want.*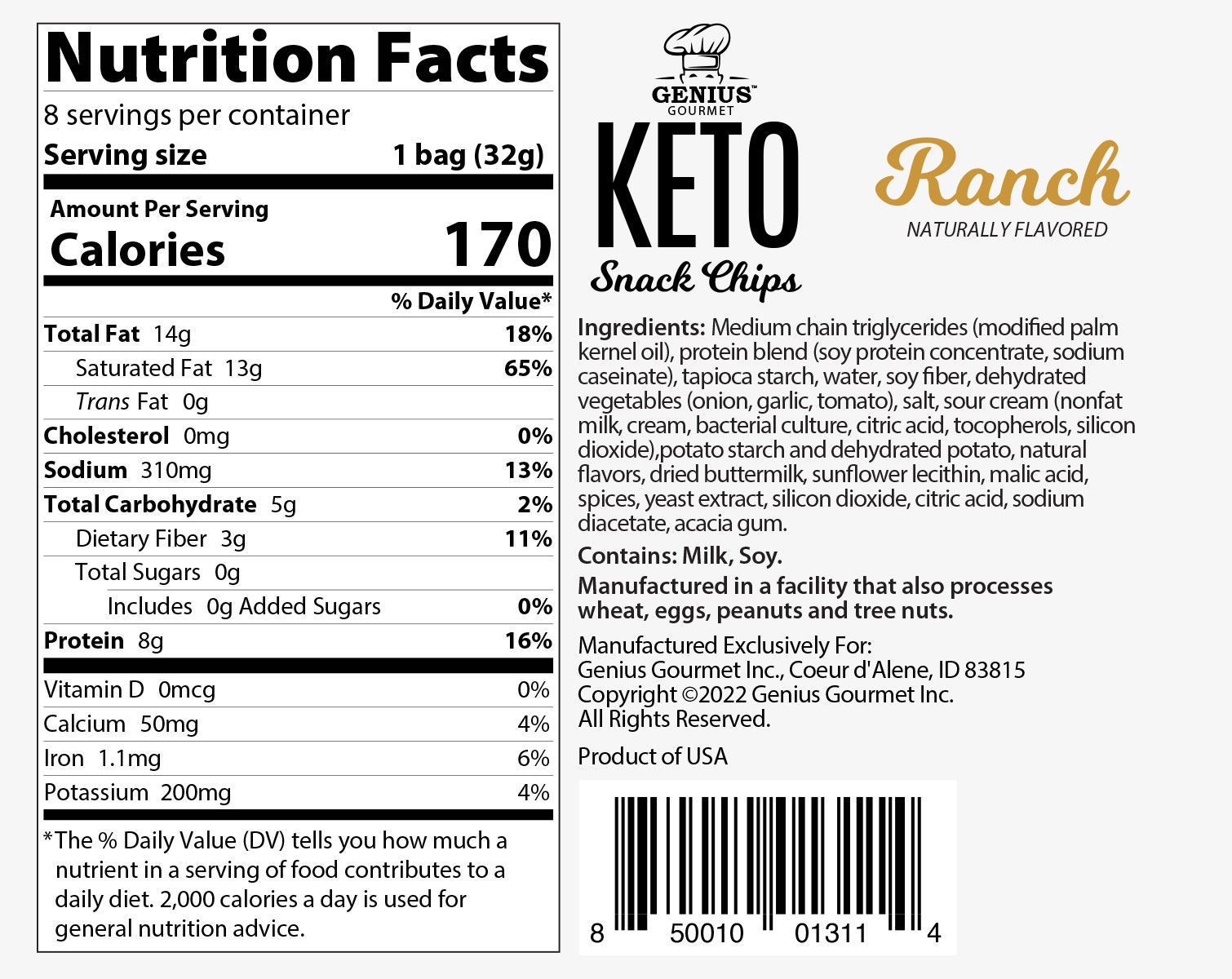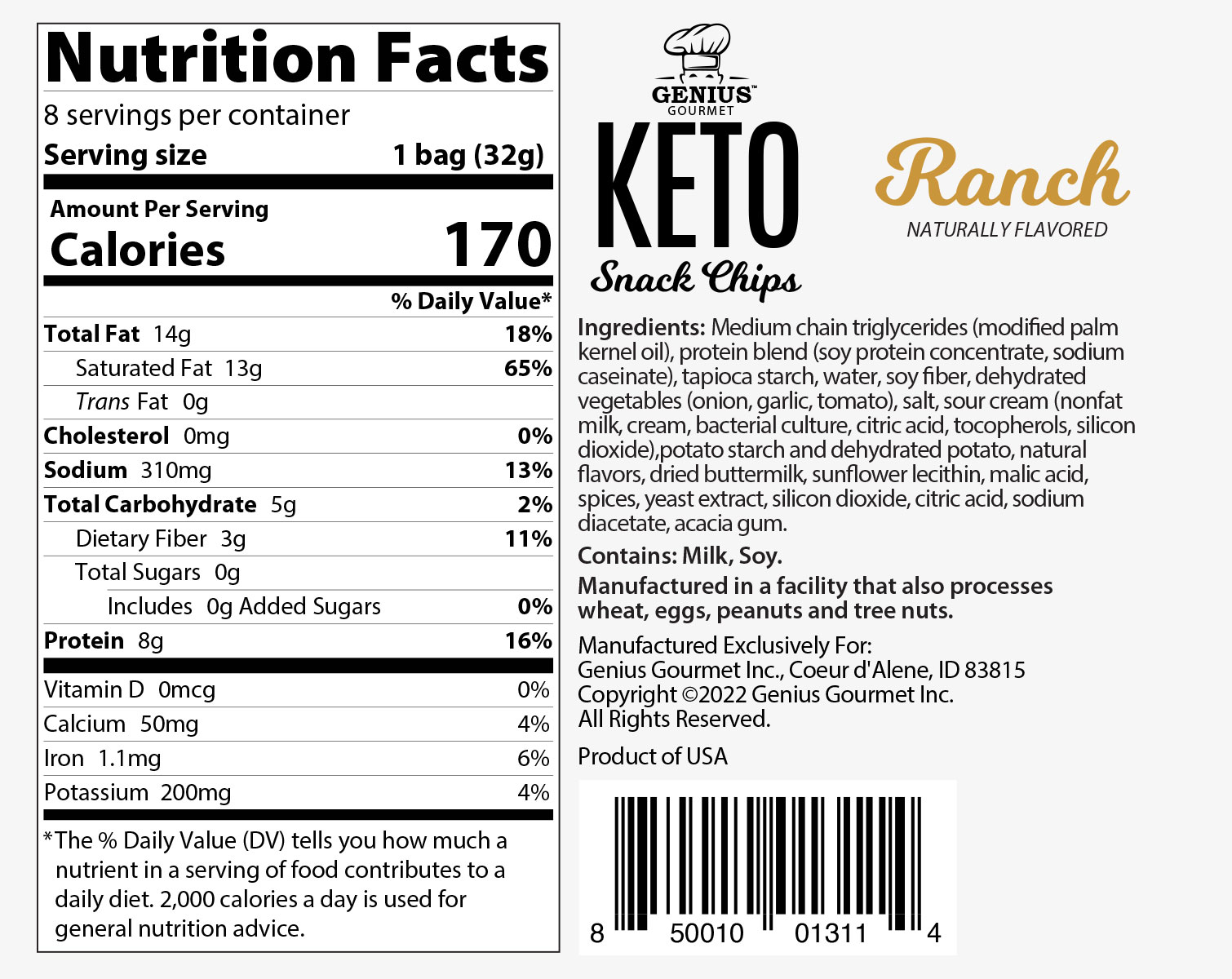 02. What's inside.

We're extremely selective and attentive with what goes in every Earthbar product. If it isn't good for you or doesn't work wonders, we're leaving it out.

Fiber

Fiber provides important health benefits including satiety, improved laxation and cholesterol-lowering abilities.*

MCT Oil

MCT's are a special fats that support weight loss by increasing fullness, fat loss, ketone production, and by improving your gut environment.*

Protein

Protein is one of the building blocks that make you into who you are. It is a complex group of molecules that does all kinds of jobs in your body. Protein makes up your hair, nails, bones, and muscles. Protein gives tissues and organs their shape and also helps them work the way they should.

02. What's inside.

We're extremely selective and attentive with what goes in every Earthbar product. If it isn't good for you or doesn't work wonders, we're leaving it out.

Fiber

Fiber provides important health benefits including satiety, improved laxation and cholesterol-lowering abilities.*

MCT Oil

MCT's are a special fats that support weight loss by increasing fullness, fat loss, ketone production, and by improving your gut environment.*

Protein

Protein is one of the building blocks that make you into who you are. It is a complex group of molecules that does all kinds of jobs in your body. Protein makes up your hair, nails, bones, and muscles. Protein gives tissues and organs their shape and also helps them work the way they should.

Fiber

Fiber provides important health benefits including satiety, improved laxation and cholesterol-lowering abilities.*

MCT Oil

MCT's are a special fats that support weight loss by increasing fullness, fat loss, ketone production, and by improving your gut environment.*

Protein

Protein is one of the building blocks that make you into who you are. It is a complex group of molecules that does all kinds of jobs in your body. Protein makes up your hair, nails, bones, and muscles. Protein gives tissues and organs their shape and also helps them work the way they should.

03. The Earthbar Standard.

Deeply committed to staying extremely selective...

We exist to help everyone become the healthiest version of themselves. That's why every supplement, smoothie, bowl and tincture is tested by our team, rated by holistic experts, tried by your neighbors and true to our 6-point set of standards. A truly curated selection of wellness products.

01. Efficacy
02. Potency + Dosing
03. Active Ingredient Evaluation
04. Bioavailability
05. Quality Ingredients
06. Sustainability

03. The Earthbar Standard.

Deeply committed to staying extremely selective...

We exist to help everyone become the healthiest version of themselves. That's why every supplement, smoothie, bowl and tincture is tested by our team, rated by holistic experts, tried by your neighbors and true to our 6-point set of standards. A truly curated selection of wellness products.

01. Efficacy
02. Potency + Dosing
03. Active Ingredient Evaluation
04. Bioavailability
05. Quality Ingredients
06. Sustainability