A concentrated performance blend of 5 essential electrolytes designed to deliver rapid replenishment*

Electro: 5 is an exciting electrolyte blend designed specifically for health and performance oriented ketogenic dieters. This concentrated formula is convenient for adding to water or other beverages and is ideal for people on ketogenic diets and individuals who may benefit from increased electrolyte intake even if not following a reduced carb or keto diet. Electro: 5 provides more magnesium than other commercially available formulas and features magnesium, chloride and sulfate in ionic mineral form.*

1% of all purchases donated to IUCN and deforestation efforts to preserve intact rain forests on planet earth

Free shipping on orders over $100
Gluten Free

Non-GMO

Dairy Free

Vegan
(40) 3ml servings of Electro:5.
Mix 3 mL (approx. ½ teaspoon) with 20 ounces of water for a quick hydration boost, or as directed by your health care practitioner. The amount of water may be increased or decreased to achieve the desired concentration and taste.
01. What it does.

Replenishes electrolytes after intense physical activity*

Each 3 mL serving provides 75 mg of magnesium and 300 mg of chloride sourced from ionic trace minerals, 150 mg of sodium (from seawater), and 150 mg of potassium (as potassium chloride). Ionic minerals are readily absorbed, which allows for rapid replenishment.*

Diminishes symptoms of keto reactions*

Transitioning from a standard Western diet to a ketogenic or very low carb diet entails making a rapid and dramatic change in the kinds of foods consumed. Many of the unpleasant issues associated with this transition—often called the "keto flu"—are a direct result of changes in electrolyte status. With the removal of most carbohydrates from the diet, insulin levels decrease. Insulin influences the kidneys to reabsorb minerals, especially sodium.*

Provides highly absorbable magnesium*

Electro:5 provides more magnesium than other commercially available electrolyte formulas and features magnesium, chloride and sulfate in ionic mineral form. Ionic minerals are absorbed into the body quickly and easily, allowing for rapid replenishment.*

Provides essential minerals and key electrolytes*

Electro5: is an exciting electrolyte blend designed specifically for health- and performance- oriented athletes & ketogenic dieters. Each 3 mL serving (approx. 1⁄2 teaspoon) is completely free of carbohydrate and provides essential minerals, including magnesium, sodium, potassium, chloride, sulfate and zinc.*
01. What it does.
Replenishes electrolytes after intense physical activity*

Each 3 mL serving provides 75 mg of magnesium and 300 mg of chloride sourced from ionic trace minerals, 150 mg of sodium (from seawater), and 150 mg of potassium (as potassium chloride). Ionic minerals are readily absorbed, which allows for rapid replenishment.*

Diminishes symptoms of keto reactions*

Transitioning from a standard Western diet to a ketogenic or very low carb diet entails making a rapid and dramatic change in the kinds of foods consumed. Many of the unpleasant issues associated with this transition—often called the "keto flu"—are a direct result of changes in electrolyte status. With the removal of most carbohydrates from the diet, insulin levels decrease. Insulin influences the kidneys to reabsorb minerals, especially sodium.*

Provides highly absorbable magnesium*

Electro:5 provides more magnesium than other commercially available electrolyte formulas and features magnesium, chloride and sulfate in ionic mineral form. Ionic minerals are absorbed into the body quickly and easily, allowing for rapid replenishment.*

Provides essential minerals and key electrolytes*

Electro5: is an exciting electrolyte blend designed specifically for health- and performance- oriented athletes & ketogenic dieters. Each 3 mL serving (approx. 1⁄2 teaspoon) is completely free of carbohydrate and provides essential minerals, including magnesium, sodium, potassium, chloride, sulfate and zinc.*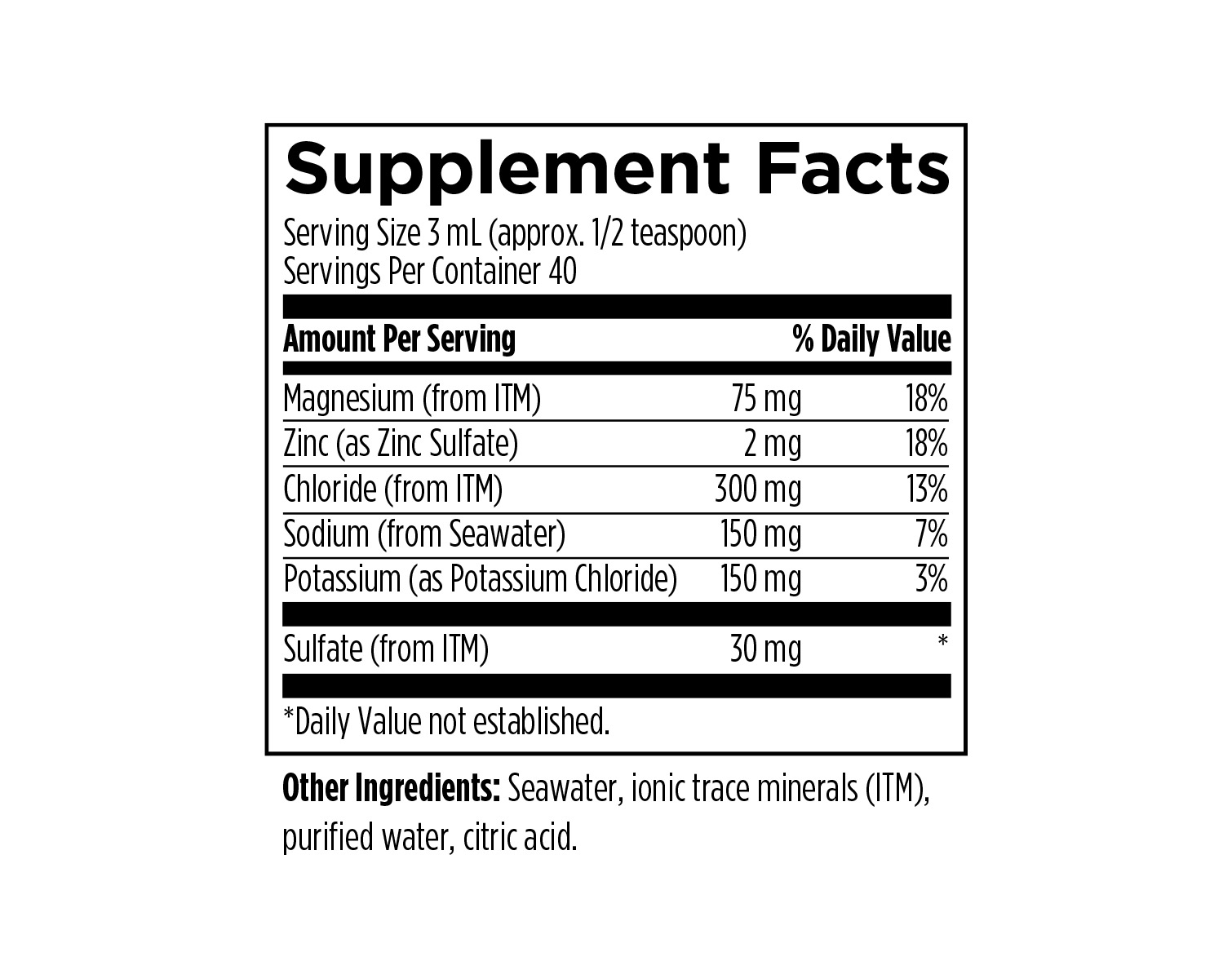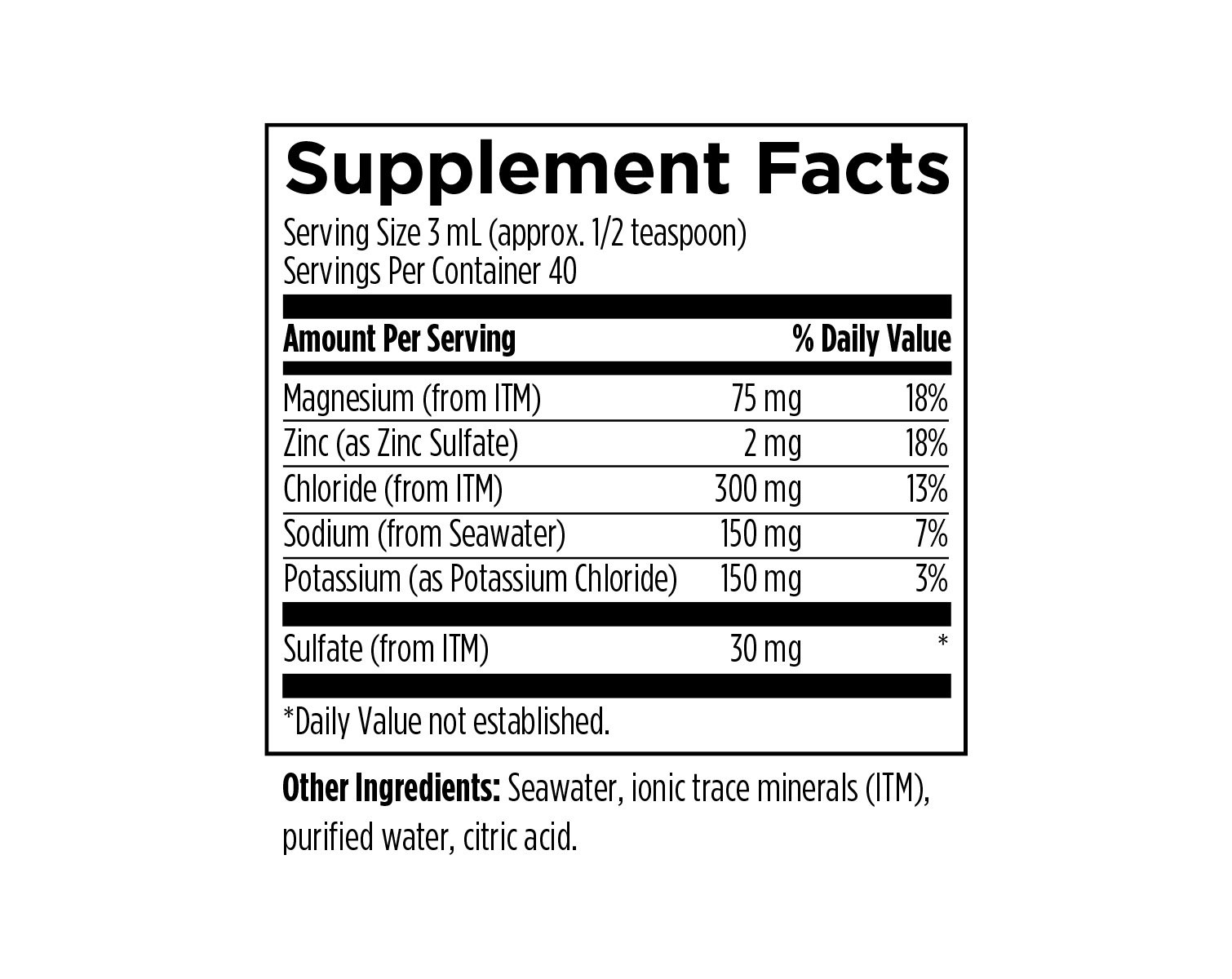 02. What's inside.

We're extremely selective and attentive with what goes in every Earthbar product. If it isn't good for you or doesn't work wonders, we're leaving it out.

Magnesium

Healthy magnesium levels protect metabolic health, stabilize mood, keep stress in check, promote better sleep, and contribute to heart and bone health.*

Sodium

The body uses sodium to control blood pressure and blood volume. Your body also needs sodium for your muscles and nerves to work properly.*

Potassium

Potassium is both an electrolyte and a mineral. It helps keep the water (the amount of fluid inside and outside the body's cells) and electrolyte balance of the body. Potassium is also important in how nerves and muscles work.*

Chloride

Chloride is one of the most important electrolytes in the blood. It helps keep the amount of fluid inside and outside of your cells in balance. It also helps maintain proper blood volume, blood pressure, and pH of your body fluids.*

02. What's inside.

We're extremely selective and attentive with what goes in every Earthbar product. If it isn't good for you or doesn't work wonders, we're leaving it out.

Magnesium

Healthy magnesium levels protect metabolic health, stabilize mood, keep stress in check, promote better sleep, and contribute to heart and bone health.*

Sodium

The body uses sodium to control blood pressure and blood volume. Your body also needs sodium for your muscles and nerves to work properly.*

Potassium

Potassium is both an electrolyte and a mineral. It helps keep the water (the amount of fluid inside and outside the body's cells) and electrolyte balance of the body. Potassium is also important in how nerves and muscles work.*

Chloride

Chloride is one of the most important electrolytes in the blood. It helps keep the amount of fluid inside and outside of your cells in balance. It also helps maintain proper blood volume, blood pressure, and pH of your body fluids.*

Magnesium

Healthy magnesium levels protect metabolic health, stabilize mood, keep stress in check, promote better sleep, and contribute to heart and bone health.*

Sodium

The body uses sodium to control blood pressure and blood volume. Your body also needs sodium for your muscles and nerves to work properly.*

Potassium

Potassium is both an electrolyte and a mineral. It helps keep the water (the amount of fluid inside and outside the body's cells) and electrolyte balance of the body. Potassium is also important in how nerves and muscles work.*

Chloride

Chloride is one of the most important electrolytes in the blood. It helps keep the amount of fluid inside and outside of your cells in balance. It also helps maintain proper blood volume, blood pressure, and pH of your body fluids.*

03. The Earthbar Standard.

Deeply committed to staying extremely selective...

We exist to help everyone become the healthiest version of themselves. That's why every supplement, smoothie, bowl and tincture is tested by our team, rated by holistic experts, tried by your neighbors and true to our 6-point set of standards. A truly curated selection of wellness products.

01. Efficacy
02. Potency + Dosing
03. Active Ingredient Evaluation
04. Bioavailability
05. Quality Ingredients
06. Sustainability

03. The Earthbar Standard.

Deeply committed to staying extremely selective...

We exist to help everyone become the healthiest version of themselves. That's why every supplement, smoothie, bowl and tincture is tested by our team, rated by holistic experts, tried by your neighbors and true to our 6-point set of standards. A truly curated selection of wellness products.

01. Efficacy
02. Potency + Dosing
03. Active Ingredient Evaluation
04. Bioavailability
05. Quality Ingredients
06. Sustainability